This media kit provides you with the most up-to-date background information on Unilever Food Solutions. If you need more information, please contact us at UFS.Indonesia@unilever.com.


Who we are
Unilever Food Solutions is one of the world's top foodservice companies. We provide professional ingredients and services to meet the many different needs of our customers — from hawker centres to 5-star hotels, and from school canteens to large food chains — in 74 countries. We help chefs all over the world serve tasty, wholesome meals that keep guests coming back for more. We're part of more than 100 million out-of-home meals every day and we're present in over 1.5 million professional kitchens around the world.
 
We know food service
We've been in the food business since the 1880's, delivering some of the world's favourite brands including the world's number 1 brands in savoury, dressings and tea categories — Knorr, Hellmann's and Lipton. We create ingredients that save precious prep time in the kitchen, without compromising on flavour or flair. And we're constantly providing ideas and inspiration, not just to keep menus fresh and exciting but to help customers get that critical balance right between impressing guests and making a profit.
Our Chefmanship capability operates in over 40 Chefmanship Academies and satellite kitchens throughout the world. And we offer training to over 100,000 food professionals across the world each year.
 
For chefs by chefs
We've worked with chefs for over 80 years and now employ over 500 chefs around the world, including 28 in Southeast Asia. So we understand what our customers need to be successful and we know how to help them keep guests happy. Together with our highly skilled nutritionists, we help our customers find the right balance of great tasting and nutritious food served up to the same consistently high standards.
 
Growing for the future
We always care about putting healthy and nutritious food on the table, but we also care about our impact on the earth. Using ingredients and packaging that are sustainably sourced, generate less waste and consume less energy is all part of our environmentally responsible way of doing business.
 
Food matters to us
That's why you can trust us to help you satisfy your most discerning guests.
 
Our executive team
See who's in the executive team and find out what inspires us.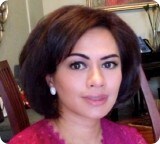 Ira Noviarti
Vice President, Unilever Food Solutions, South-East Asia

The two things I value most in life are: helping people grow and creating a successful change. I believe that life is full of great possibilities and love unlocking the potential of both people and businesses.
I've been with Unilever for most of my working life, helping create and drive growth of the business across many different categories and brands. It's been an exciting 19 years and I'm looking forward to applying my experience in the food service industry.
I'm excited about working with chefs and food operators to help them delight their guests with nutritious and delicious dishes. I hope to inspire change by unleashing the potential of our people and our business, and to provide our partners with the ingredients and know-how to keep their guests coming back for more.
1995
Joined Unilever Indonesia as a Management Trainee
1997
Appointed Brand Manager, Vaseline and Pond's
1998
Appointed Regional Senior Brand Manager of Pond's for Southeast Asia and Northeast Asia
2000
Appointed Senior Brand Manager of Oral Care
2002
Appointed Marketing Director of Ice Cream, Unilever Indonesia
2005
Appointed Marketing Director of Foods – Spread and Cooking, Unilever Indonesia
2006
Appointed Marketing Director of Face Care and Body Care, Unilever Indonesia
2010
Appointed Vice President, Ice Cream, Media and Consumer Insight
2015
Appointed Vice President, Unilever Food Solutions, Southeast Asia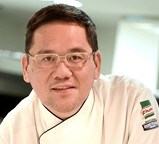 Thomas Agus Pamudji
Managing Director, Unilever Food Solutions, Indonesia
As Managing Director for Unilever Food Solutions Indonesia, I strive to grow the business by promoting collaboration with chefs, business partners and operators and helping them become leaders in the food service industry.
I joined Unilever over 20 years ago and I have been fortunate to experience the breadth of Unilever offerings by working in our many retail divisions. Each stint has helped me grow professionally and understand how to get the best out of the people I work with.
Food service is a growing business in Indonesia and the market has big opportunities to tap into. Unilever Food Solutions is the leading food service business and we should be an example of responsible growth that our partner operators can be proud to work with.
Developing our customers' businesses through the growth of people I work with is always my main interest. Watching my team achieve success has been a source of joy throughout my career and I always try to learn new things to further my professional career. I enjoy running to maintain a healthy lifestyle but I'm still working on having healthier eating habits.
1994
Joined Unilever Indonesia as Sales Management Trainee
2001
Appointed Customer Manager Woolworth, Home Care, Unilever Australasia
2006
Appointed Customer Marketing Director, Personal Care, Unilever Indonesia
2009
Appointed Brand Building Director, Beverages, Unilever Indonesia
2011
Appointed Local Modern Trade Director, Unilever Indonesia
2014
Appointed Managing Director, Unilever Food Solutions, Indonesia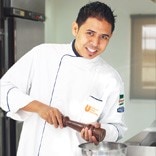 Aldi Aldhena
Executive Chef, Unilever Foods Solutions, Indonesia
As Executive Chef for Unilever Food Solutions, Indonesia, I work with my team of chefs to develop our skills with UFS ingredients. We work to find new creative uses and recipes using those ingredients to help chefs and food service operators run their business smarter while delighting their guest with tasty dishes.
I am passionate about authentic Indonesian cuisine. My ultimate goal is to see my team members succeed while working happily together.
Travelling around Indonesia gives me a chance to taste the rich variety of Indonesian cuisines and chat with the owners of rumah makans. These meetings offer many inspirational learning moments for me. How do they open rumah makans? How do they survive for many years? How have they kept their recipes consistent? Their answers to these questions never cease to inspire me.
2006
Joined Unilever Food Solutions, Indonesia, as Area Sales Chef for West Region (West Java & Sumatra)
2008
Appointed Application Chef (for Marketing & R&D), based in Jakarta
2012
Appointed Executive Chef, Unilever Food Solutions, Indonesia