Best Foods Real Mayonnaise 3L
43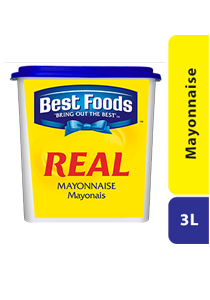 Scratch-like performance
Balanced taste and creamy texture that blends well with other ingredients.
Versatile: suitable for all applications.
"Real" => 65% Soy bean oil content
See all product details
Packaging
Including 10% VAT
All product information
Nutrition and allergens
Ingredients
Soybean oil (contains antioxidant ascorbyl palmitate), water, egg, sugar (contains sulphite), vinegar, salt, acidity regulator lactic acid, vegetable stabilizer, preservatives sodium benzoate, mustard natural flavour (contains soybean, antioxidant tocopherol), and sequestrans calcium disodium EDTA
| | |
| --- | --- |
| Total Energy kJ | - kJ |
| Total Energy kcal | 90.00 kcal |
| Protein | - g |
| Carbohydrate | - g |
| Sugars | - g |
| Fat | - g |
| Saturated Fat | - g |
| Dietary Fiber | - g |
| Sodium | - mg |
Key product information
Description
Best Foods Real Mayonnaise is the world's number 1 mayonnaise and the only mayonnaise that you need for your kitchen. It delivers the best quality in binding and creaminess. Best Foods Real Mayonnaise is the superior taste for gourmet sandwiches that you can charge more for. Q: Why is Best Food Real Mayonnaise the best standard? A: It's the closest thing to real. Best Food dressings are made from real wholesome ingredients and all of the ingredients are clearly spelt out so you know exactly what goes in. The oil used is high in polyunsaturated fats, including omega 6 and 3 fatty acids, but low in the bad stuff like saturated fatty acids and trans fatty acids. Omega 3 is good for increasing the body's metabolism, to suppress bad cholesterol in the blood stream and to decrease the risk of heart disease.
Usage information
Benefits
Made from pasteurized egg and soy bean oil, with 370 mg Omega 3 Per Portion, Strong binding power, Base for salad dressing, Suitable for dipping.
Storage
Keep in cool and dry place. Keep in chiller at 4°C - 10°C after opening. Don't freeze it.