Buavita Orange 250ml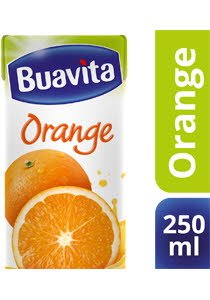 Preparation
Product can be consumed directly. Keep refrigerated. Shake before drinking.
Storage
Keep refrigerated
Tips
Refreshingly delicious on it's own, it can also be used as a base for creative beverage recipes. Explore our recipes page for inspirations to excite your guests.
Benefits
- More real fruit content, more fruit benefits, taste of real fruit juice - Processed through UHT technology and antiseptic packaging (protection from outside air and light) therefore ensuring the quality and delicious taste of Buavita juices - A perfect mini-bar and banquet option for your hotel guests looking for a healthy and tasty thirst quencher. Benefits of UHT: - Safe to consume and free from bacteria - Long storage life without the need of preservatives. - Practical and easy to carry and store without the use of chiller. - Nutrition is not lost during heating process
Ingredients
Water, orange juice, sucrose, orange cells, mango, vegetable stabilizer, acid regulator citric acid, orange flavour, natural colorant karoten (CI 75130), vitamin C, vitamin A
Description
Ready-to-drink Buavita is the leading real fruit juice brand in Indonesia. It is made from real fruit juice, with more fruit content and without any preservatives. Giving you all the goodness of real fruits! Explore our extensive range of Ready to Drink (RTD) fruit juice flavors today.


| Item | Per portion |
| --- | --- |
| Total Energy kJ | - kJ |
| Total Energy kcal | - kcal |
| Protein | - g |
| Carbohydrate | - g |
| Sugars | - g |
| Fat | - g |
| Saturated Fat | - g |
| Dietary Fiber | - g |
| Sodium | - mg |