Lipton Pyramid Classic Earl Grey 25x1.8g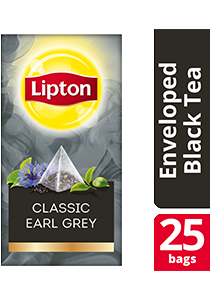 Preparation
Brewed 1 bag of Lipton Pyramid Classic Earl Grey in 200ml of freshly boiled water (100°C) for 2-3 minutes
Yield
1 tea bag for 1 cup of tea
Storage
Store in cool and dry place
Benefits
Sealed in high-quality envelopes for fresh taste, aroma and moisture protection this range of specialty tea delivers a superior tea experience.
Ingredients
Black tea (88%), flavourings, blue petals (0.5%), marigold petals (0.5%)
Description
This sophisticated black tea leaves include notes of bergamot and flower petals. All of these aromatic notes liberate nobly in the transparent pyramid bag.


| Item | Per portion |
| --- | --- |
| Total Energy kJ | - kJ |
| Total Energy kcal | - kcal |
| Protein | - g |
| Carbohydrate | - g |
| Sugars | - g |
| Fat | - g |
| Saturated Fat | - g |
| Dietary Fiber | - g |
| Sodium | - mg |