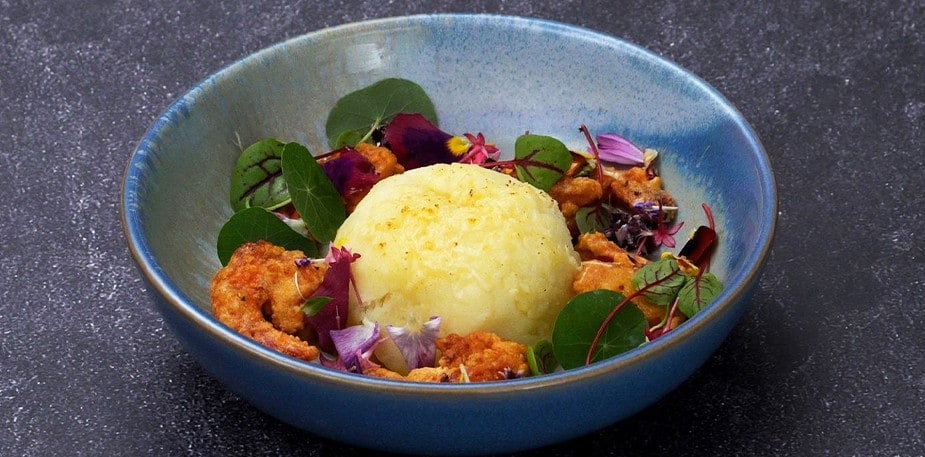 Learning how to cook laksa the right way opens so many new avenues for Singaporean cuisine. Take for example this dish: it blends together everything there is to love about Hawker food: creamy salted egg and spicy laksa!

Portion: 2
 
INGREDIENTS:
250 g Knorr Mashed Potato Flakes
7 g salt 
900 ml water 
400 ml milk
50 g grated parmesan 
Laksa Paste: 
30 ml oil 
20 g shallots 
4 pcs red chili 
10 g dried chili 
2 pcs of lemongrass 
10 g turmeric
5 g shrimp paste 
10 g dried shrimp 
Laksa broth: 
250 ml coconut milk 
15g Knorr Chicken Powder, mixed in 250 ml of water 
15 ml fish sauce 
2 g Knorr Lime Powder, diluted in water
8 sheets of gelatine 
Salted Egg Prawn: 
150 g medium prawns
1 egg white 
50 g rice flour 
2.5 g Knorr Chicken Powder 
Oil, for frying 
Sauce: 
10 ml corn oil 
25 g unsalted butter 
17 g Knorr Golden Salted Egg Powder 
5 g red chili, sliced thin 
3 g curry leaves 
STEPS: 
1. Potato lava: Heat water and salt until boiling, then add milk and the Knorr Mashed Potato Flakes. Mix well then set aside. 
2. Laksa paste: Add all the ingredients into the food processor. Blend until it becomes a paste. 

3. Laksa soup: Heat the vegetable oil in a large wok or heavy pan over medium. Add laksa paste and stir until fragrant. Lower the heat, then let it cook for about 3–4 minutes more. 

4. Add the coconut milk and bring to the boil. Lower the heat and let it simmer for around 10 minutes to infuse the flavours. 

5. Add the chicken stock and let it simmer for 10 minutes. Add fish sauce and Knorr Lime Powder to taste. 

6. Soak the gelatine with cold water, then add to the laksa soup. Mix well, then let it cool before storing it in the freezer to let it set. 

7. Spoon the mashed potato into a mold, then fill the center with the laksa that was previously set. Cover the laksa with the mashed potato.

8. Salted Egg Prawn:  Season the prawn with Knorr Chicken Powder, then add egg white. 

9. Coat the prawn with rice flour, then deep fry until crisp and golden brown. Place the cooked prawn on paper towels until it's time to assemble the dish. 

10. Heat the oil in a small wok and add the butter. Stir until melted. Add the curry leaves and the red chilies, then add the Knorr Golden Salted Egg Powder. 

11. Add the prawns, gently tossing it with the sauce. 

12. To finish: Remove the mashed potato from the mold, then put in the serving bowl. Sprinkle with parmesan cheese, and then bake it at 180C for about 5 minutes. Arrange the potato dome with salted egg prawn on the side, then garnish. 

The gooey surprise you get when you cut into the mashed potato is a creative take on Singapore food that is both picture-perfect and delicious to boot! Impress guests with this dish, and you'll be sure to have a following. Guaranteed.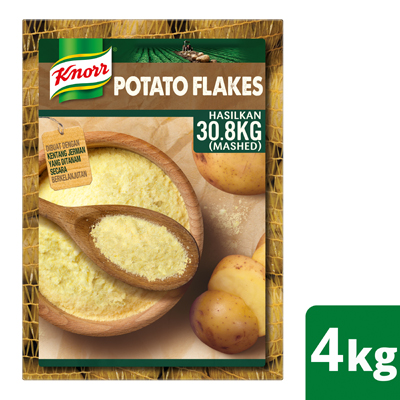 Knorr Mashed Potato Flakes are made with good quality of potatoes from Germany to help you create mashed potato in less than 5 minutes, with no peeling, washing, or boiling!
Find out more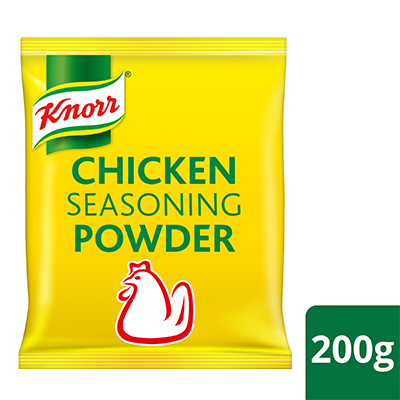 You want to serve the best dishes at the highest standard. Knorr Chicken Powder helps you do that by delivering the purest gurih.

It's a universal seasoning—you'll only need a tiny pinch for an extraordinary punch of flavours. It's made with 5X more meat** to give your dishes the extra gurih boost without masking their original flavours.

Use it on any cuisine. Enjoy the taste of pure chicken umami.

† Source: Brand Used Most Often in Hotel and Western Restaurant, TNS Research, March 2015
** vs. other chicken flavour seasoning variants in Indonesia
Find out more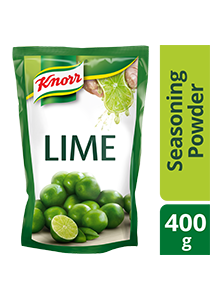 Knorr Lime Powder is a versatile seasoning with the refreshing taste of lime, perfect for many food or beverage applications.
Find out more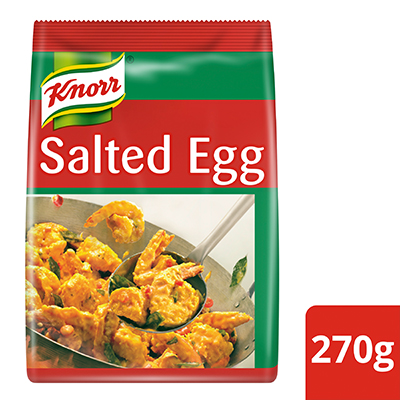 A one-step dish base for salted egg dishes that use real quality egg yolks and the latest drying technology to preserve their flavour, colour and aroma. Now, you can create scratch-quality salted egg dishes in just one step!
Find out more