SariWangi Teh Melati Kantong Jumbo 4x20g
SariWangi Teh Melati Kantong Jumbo 4x20g
Packaging
Including 10% VAT
Quantity
SariWangi Teh Melati Kantong Jumbo 4x20g added to cart
Authentic Indonesian tea for your Restaurant
Hi quality tea with classic, Indonesian tea flavours.
Hassle free, no waste, need no strain, innovation in its hygienic jumbo bag
One single jumbo bag to produce glasses of tea. Consistent flavour and quality
Suitable for rumah makan and Indonesian restaurant
See all product details
Article number:

67099579

•
Packaging
Including 10% VAT
Quantity
SariWangi Teh Melati Kantong Jumbo 4x20g added to cart
---
I use to brew loose leaf tea because of its specific, traditional flavours, but the result is less consistent and inconvenient in the making
SariWangi Teh Melati Kantong Jumbo produces classic, Indonesian tea flavors in large quantity yet in a more practical way
Authentic Indonesian tea for your Restaurant
Hi quality tea with classic, Indonesian tea flavours.
Hassle free, no waste, need no strain, innovation in its hygienic jumbo bag
One single jumbo bag to produce glasses of tea. Consistent flavour and quality
Suitable for rumah makan and Indonesian restaurant
No 1 Tea Brand in Indonesia *Nielsen retail audit 2016
---
All product information
Nutrition and allergens
Ingredients
Jasmine Tea (100%)
Nutrition Information
| Typical values | Per portion |
| --- | --- |
Key product information
Description
Tea with Jasmine blend, packed in a hygienic jumbo pot bag, creating a best traditional jasmine tea aroma. Jumbo Pot Bag is very suitable to brew tea in large quantity.
Packaging
Per Carton (24)
Usage information
Preparation
To Make Concentrated SariWangi Jasmine Tea:
1. Boiled 2.5l water, turn off the heat
2. Put 2 bags of SariWangi Teh Melati Kantong Jumbo. Allow to infuse until desired colour, taste and aroma
3. For a cup of SariWangi Jasmine Tea, add 1/3 concentrated tea with desired fresh hot water. Add sugar as desired.
4. Ready to serve. Can be used up to 40 glasses or more.

Benefits
Packed in jumbo potbag hygienic format to deliver a superior tea experience.
Storage
Keep in cool and dry place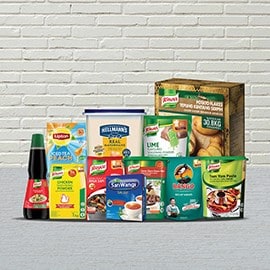 Get product recommendations from Unilever Food Solutions
Support your culinary business with the best UFS products suited to your dishes.
Learn more