A Glimpse into Future Menu
As culinary wonders emerge at an unstoppable pace, possessing deep insights and the readiness to adapt are keys to staying ahead of the curve. As such, Unilever Food Solutions presents Future Menu, a guide highlighting F&B developments to help you stand out in today's competitive market. This report features major industry trends and suggests ways to adopt them into your menu so you can continue growing your food business.
For this comprehensive guide, we collaborated with over 250 renowned chefs from more than 70 countries. The goal: provide invaluable information, inspiration, and guidance for business operators to develop recipes that follow the trends and hold the potential to shape the future culinary landscape.
Global Future Menu Research: 8 Revolutionary Trends in the Culinary World
Unilever Food Solutions kicked off a grand culinary journey, collaborating closely with industry partners and innovative chefs to spotlight the eight biggest trends in the F&B world. With the help of over 1600 experts from around the world, the UFS team analyzed and tested each trend to yield a range of unique recipes you can easily incorporate into your menu. 
Here are the eight global food trends making waves in the culinary industry:
Irresistible Vegetables
Modernized Comfort Food
Low-Waste Menus
Wild & Pure Flavors
Flavor Contrasts
Feel-Good Food
The New Sharing
Mindful Proteins
For Indonesia, we've focused on three specific trends taken from the list above but examined with a local perspective. Consequently, this guide goes beyond discussing food innovations on the rise; it can aid operators in understanding the dynamics of evolving customer tastes.
Key Takeaways from the Report:
Sous Vide: The Hottest Culinary Technique Everyone's Loving

An Undeniable Affinity for Spice: 93.6% of Indonesians Choose Spicy Dishes

Food Texture Preferences: Crispy and Chewy are Indonesia's Top Picks

Communal Dining: 60% of Indonesians Enjoy the Experience of Sharing Meals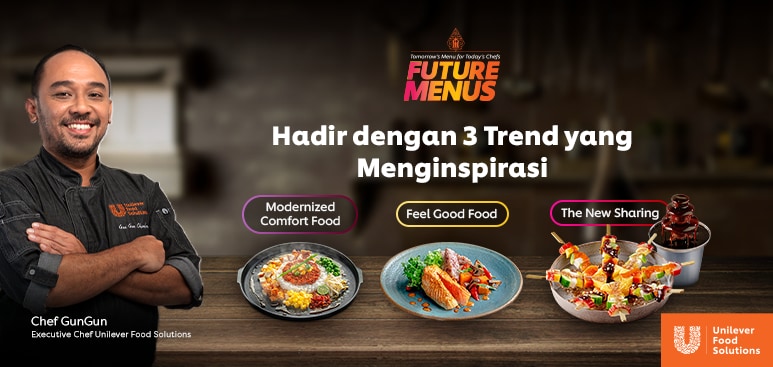 3 Future Menu Trends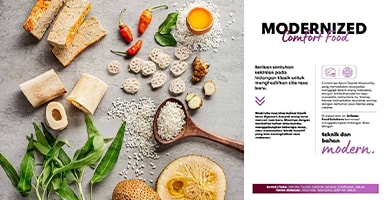 Trend 1 - Modernized Comfort Food
Classic or homestyle dishes continue to reign supreme as they offer a sense of warmth and nostalgia that ties diners to cherished traditions. Over the years, the flavors, textures, and colors of these dishes have become a source of comfort for many.
However, an exciting evolution has commenced as chefs transform staples into "Modernized Comfort Food" using innovative ingredients, fresh twists, and diverse cooking techniques. These contemporary takes on comfort food promise delightful surprises while still honoring the rich flavors ingrained in Indonesia's culinary culture.
Picture the indulgence of spicy mozzarella smashed chicken, a treat that combines the fiery kick of spices with the oozing goodness of the famed cheese.
Another option is mozzarella meatballs that offer a delightful surprise in every bite. Here, the soft, melting cheese seamlessly merges with the bouncy texture of the meatballs. But the innovation doesn't end there!
Mentai dumplings bring a fresh twist to another classic, with a creamy and enticing sauce taking the harmony of flavors up a notch.
Then there's the seblak fung zhao, where humble chicken feet become a masterpiece that tantalizes the taste buds.
Make these "Modernized Comfort Food" creations the stars of your restaurant menu. Blending tradition and innovation will allow you to meet customers' expectations for familiar tastes while offering a truly unique experience.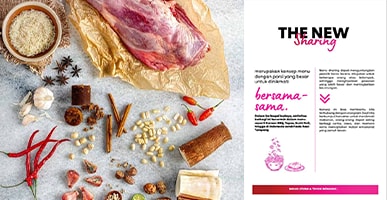 Trend 2 - The New Sharing
Sharing food has always had its charm. Who can say no to an experience that can intensify the warmth and camaraderie shared among family members and loved ones? Communal dining is a global phenomenon, exemplified by eating Korean BBQ or Spanish tapas. In Japan, there's also the tradition of sitting on tatamis to partake in sushi rolls. Meanwhile, in Indonesia, the "nasi tumpeng" symbolizes unity, often taking center stage in celebrations and joyful moments.
Through the "The New Sharing" trend, you can encourage customers to share food, try diverse food options, and even consider splitting a meal's cost.
You can maximize the potential of this communal dining trend through platter creations. One option is a medley of fried dishes: golden egg banana fritters, nori fritters, and "cipokki," a tasty innovation combining cireng (sticky rice) and gochujang sauce. This selection will be a sure hit as it spotlights Indonesia's favored food textures: crispy and chewy.
Another innovative dish is the "rujak fondue," which features fresh fruits, vegetables, and even tofu or tempeh – all ready to be dipped into a thick rujak sauce served in a fondue set. 
Don't overlook the "se'i sapi sambal ende," a dish that harmoniously blends "se'i sapi" and the enticing "sambal embe." This creation offers deep savory flavors, making it a perfect companion to warm conversations and shared laughter.
Beyond pleasing customers, "The New Sharing" trend will also spell success for your business. Undoubtedly, it can offer opportunities to increase total spending as your menu attracts larger groups and urges them to try a wide variety of food and beverage offerings.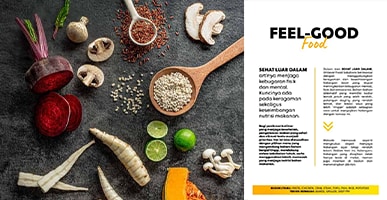 Trend 3 - Feel-Good Food
As more people become increasingly conscious of their health, the ideal dining experience pivots into promoting a wholesome lifestyle. These days, consumers gravitate towards culinary options that skillfully marry nutrition with flavor. As such, the "Feel-Good Food" trend emerged as an innovative approach to offering delicious yet healthy dishes. It urges operators to craft menus that entice the taste buds and promote physical and mental well-being. Some possible strategies include leaning on alternative ingredients with lower saturated fat, going for leaner cuts of meat, and using innovative light sauces. This way, food businesses can prepare dishes that align with the consumer's desires.
UFS also suggests effective cooking techniques that can preserve the nutritional content of ingredients. You can rely on steaming, sautéing, and roasting to ensure lower-calorie preparations, retain flavors and textures, and guarantee a delicious experience with every bite. Additionally, consider cooking with these nutritious ingredients: beets, salmon, arrowroot flour, mocaf flour, pasta, chicken, seafood, tofu, potatoes, and rice. Now, give your menus a much-needed refresh with innovative creations like the mocaf mushroom pizza. This fresh take on a classic features a gluten-free cassava flour base, offering a unique texture and adding a new dimension to every bite. Another option is the beet and skipjack fried rice. This dish is a clever transformation of a daily staple enriched with nutritious and vibrant beets. Your customers will surely enjoy this guilt-free version of fried rice! And don't skip the lime arrowroot cake, a delightful yet healthy treat. Created with gluten-free flour, it's a smart choice for anyone steering clear of gluten without sacrificing the joy of indulgence.
With the "Feel-Good Food" trend, you can reshape the culinary world by offering healthier alternatives that prioritize your customer's well-being.
Indonesian Top Chefs Unite to Craft Recipes Featuring the 3 Future Menu Trends
Together with Unilever Food Solutions, six Indonesian culinary experts joined forces to develop 12 recipes for your menu. They are Gungun Handyana, the Executive Chef of UFS Indonesia, Tassa Ramadhita (Sous Chef Chain Account), Rik Solehudin (Sous Chef Application), Nadya Risdiana (Sous Chef Jakarta), Ryan Rinaldi (Sous Chef Application), and Teduh Suryndra (Sous Chef Surabaya).
Harnessing their mastery of culinary innovation, this powerhouse team unlocked the potential of premium local ingredients and created dishes that resonate with Unilever Food Solutions' three Future Menu trends.
It's high time you take your food business to the next level! Don't miss the opportunity to download UFS' Future Menu report.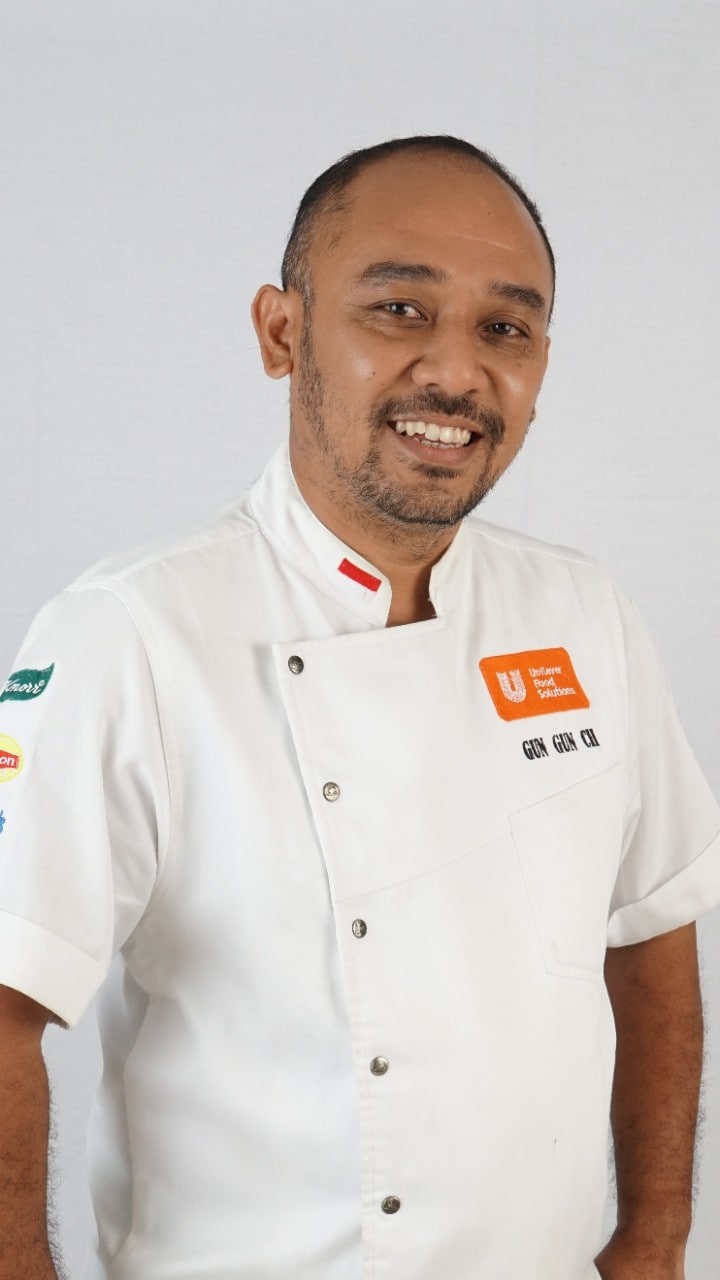 Gun Gun Handayana
Executive Chef
Gun Gun Handayana graduated from Food Production Management at the National Hotel Tourism Institute (NHI). Starting career as a cook trainee at Novotel Batam, he upgrades his cooking style as a chef in Dubai, United Arab Emirates. Gun Gun mastered a variety of dishes, such as Indonesia, Europe, Asia, Japan, and Thailand. Later on, he joined as Head Chef of Imanuel Hospital Bandung  that lets him master on managing healthy food.
Having a lot of knowledge in food production management paired with working as a chef abroad, he is knowledgeable about food safety and hygiene. To him, the food and beverage business can't be separated from food safety issues. He regularly giving food safety training to the hotel, restaurant, and catering.
On top of being the Executive Chef for UFS Indonesia, Chef Gun also known as Influencer in Unilever Food Solutions. He has over 129k followers on Instagram and 25k on TikTok. Chef Gun has the motive to educate users the importance of food safety and hygiene.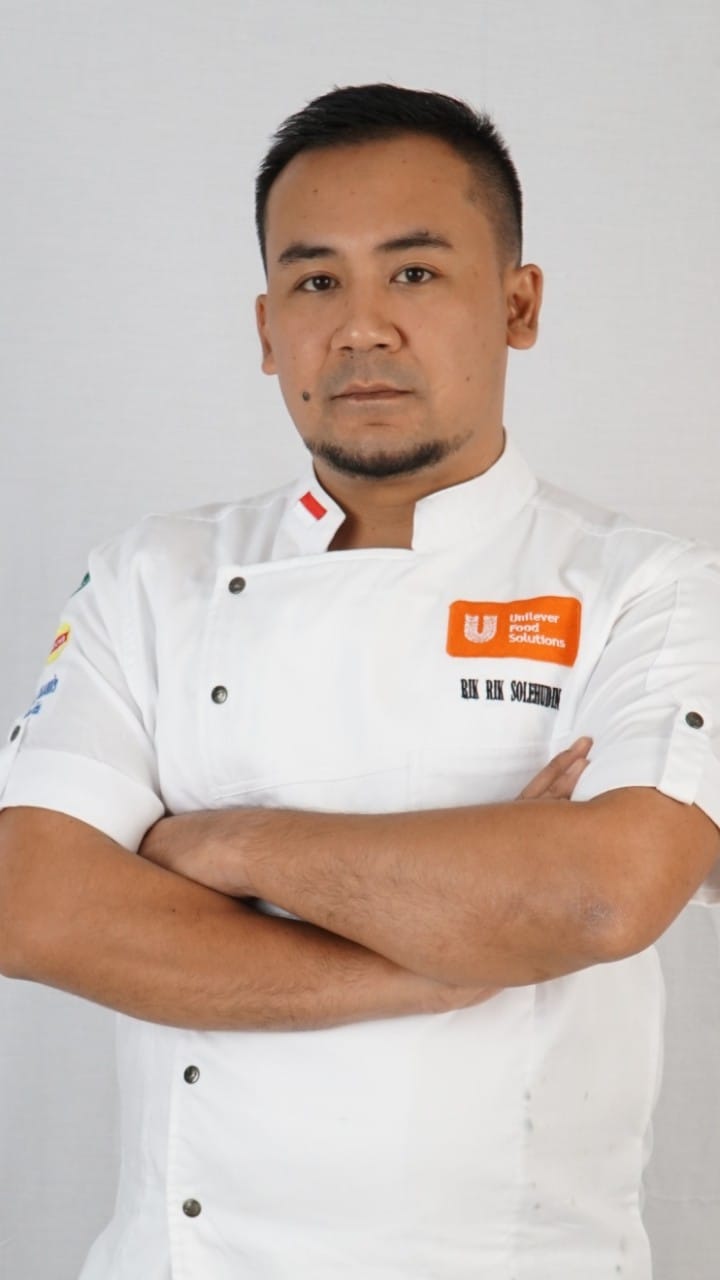 Rik Rik Solehudin
Sous Chef
After graduating from the Food Production Industry Institute, he seek the challenge by working abroad. He became a chef at Kempinski Hotel Dubai for two years, then a chef at Grill Asia Restaurant, Hyatt Regency Hotel, Ukraine. While working abroad, he learned a lot about applying food quality standards, food preparation, and production.
After returning to Indonesia, he joined Unilever Food Solutions as a Sous Chef. With his experience in well-named restaurants and hotels, he helps customers to develop their dishes to make it more interesting. He always presents inspiring demonstrations for Unilever Food Solutions customers and also a chef influencer with 9k followers on Instagram.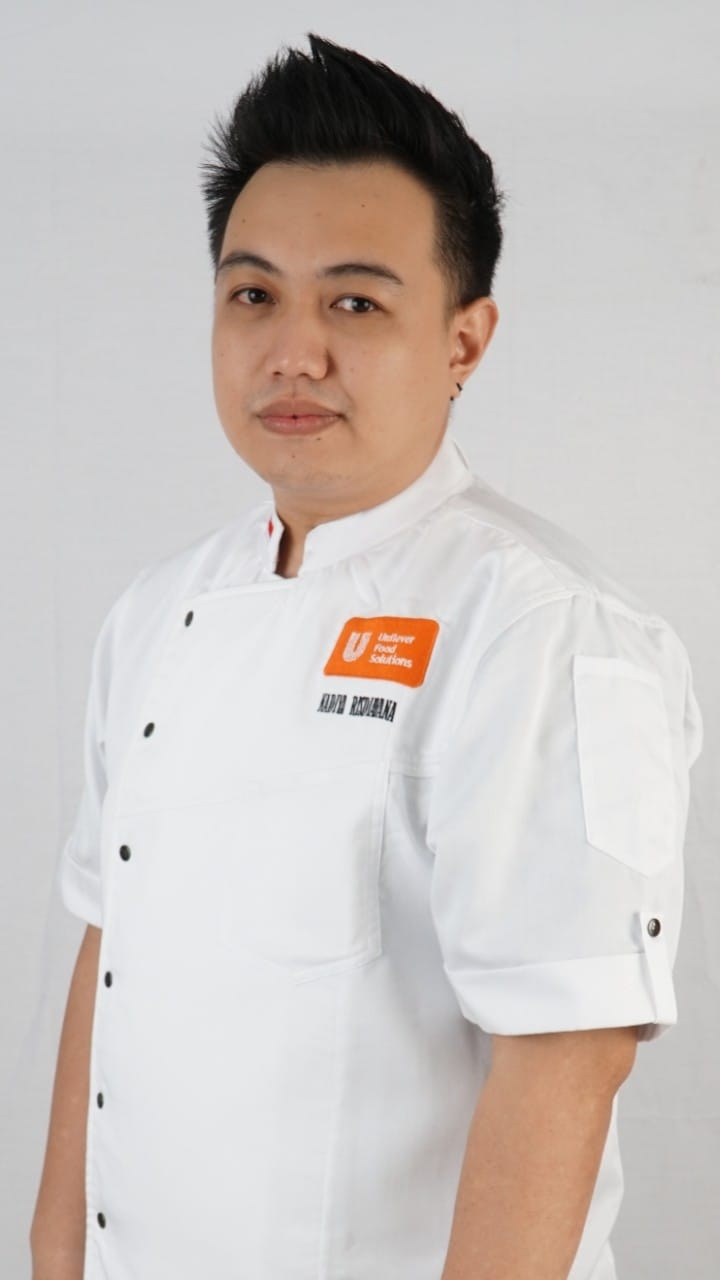 Ryan Rinaldi
Sous Chef
Ryan Rinaldi is an experienced chef from UFS Indonesia. He is a graduate of the Bandung Institute of Tourism with a major in Culinary Management (MTB). His career began at the Marriot Group, specifically at the Keraton at The Plaza Luxury Collection, where he managed several crucial sections, including the Asian, Western, Japanese, and executive lounge kitchens. Additionally, Ryan has worked at Batavia Cafe Jakarta, a historic restaurant since 1993, where he served as a Sous Chef.
Throughout his career, Ryan has gained valuable experience in managing events such as Indonesian Taste and collaborating with renowned chefs like Mandif Waroka, Ragil, and Michelin-star chef Syrco Bakker. Ryan has also earned various awards, including gold and silver medals in competitions like the Salon Culinaire and Dilmah Tea Challenge. Furthermore, he has acted as a mentor to the Batavia chef team in various competitions, including Salon Culinaire 2019 (gold medals and diplomas) and SIAL Interfood 2020 (gold medals and diplomas).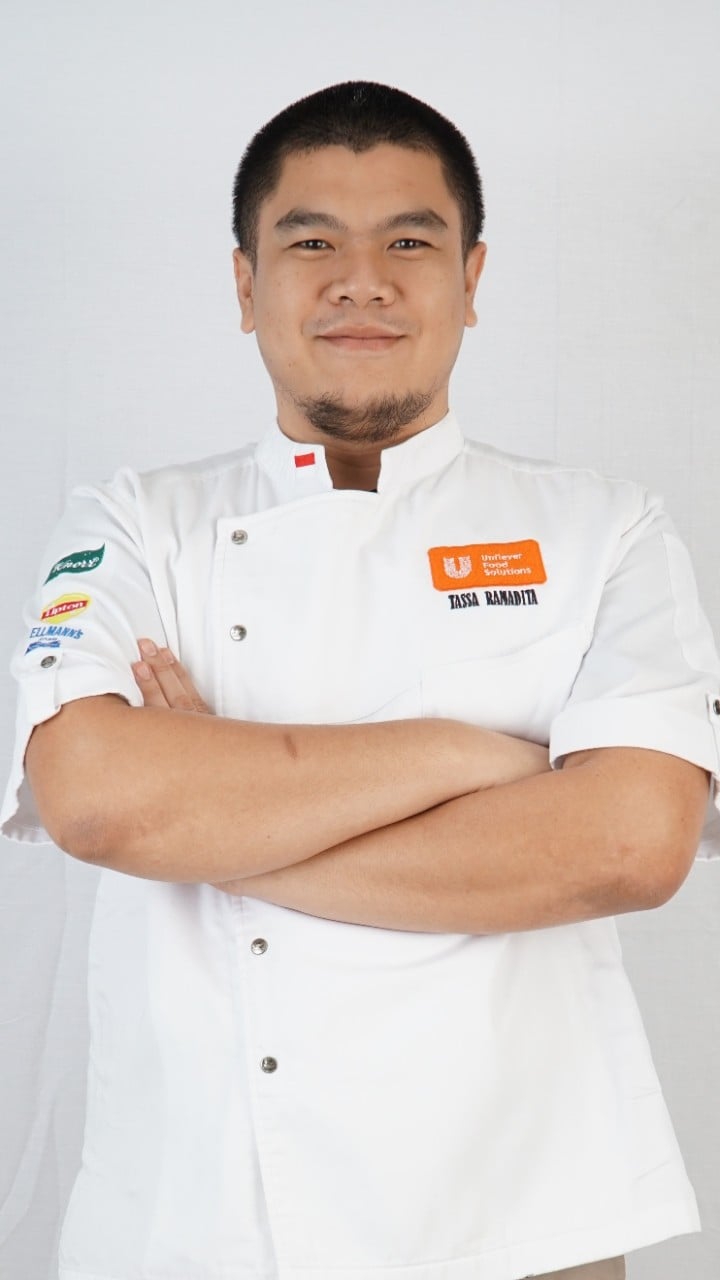 Tassa Ramadhita
Sous Chef
After graduating from the National Hotel Tourism Institute Bandung in 2008, Tassa, commonly called as Chef Koko, took part in the Tabasco Challenge in Jakarta. Then, he joined the Asian Skill Competition in Brunei Darussalam and became the only representative from Indonesia.
Chef Koko began his career as a cook at D'Lounge Cafe, Bandung. Then, he joined The Gear Cafe, Il Primo Jakarta, and later on joined Chef Tatang Management. He is responsible for creating menus, arranging cooking demonstrations, and marketing processes. Hereafter, he joined as a Sous Chef at Unilever Food Solutions. His experience in creating attractive dishes and demos in front of customers made him trusted to demonstrate Unilever Food Solutions' products.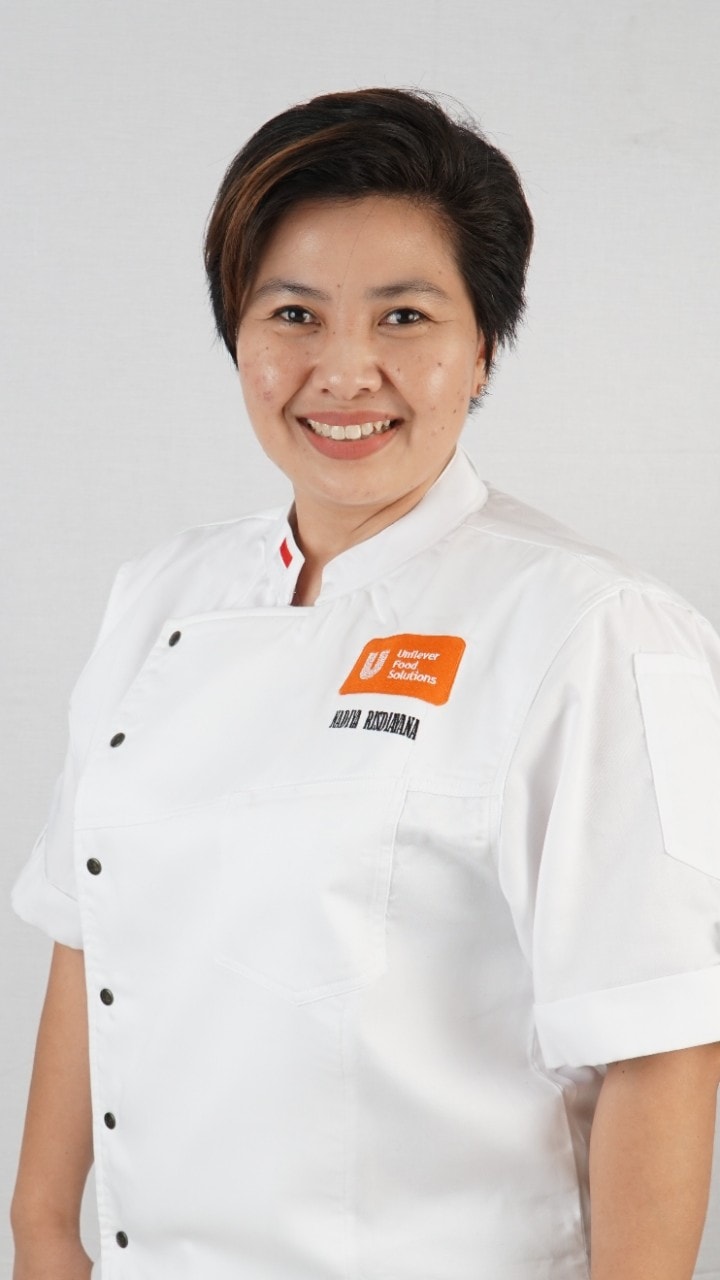 Nadya Risdiana
Sous Chef Culinary
Graduating from AKPARINDO Bandung in 2004 is a big step for Nadya Risdiana to become a chef. She began her career at Sushi Tei as a Sushi Cook, then joined with Sheraton Bandung. Later on she continued her career by working at Sofitel Bali Nusa Dua Bali, Rama Beach Hotel Tuban, then Keraton at The Plaza Luxury Collection Jakarta.
Today, Nadya is Sous Chef Culinary at Unilever Food Solutions. For her, being a chef must be updated with the trends in the culinary world. To do so, she always reads many sources, by books or from the internet. Chef Nadya is a Chef Influencer on Instagram with 5k followers.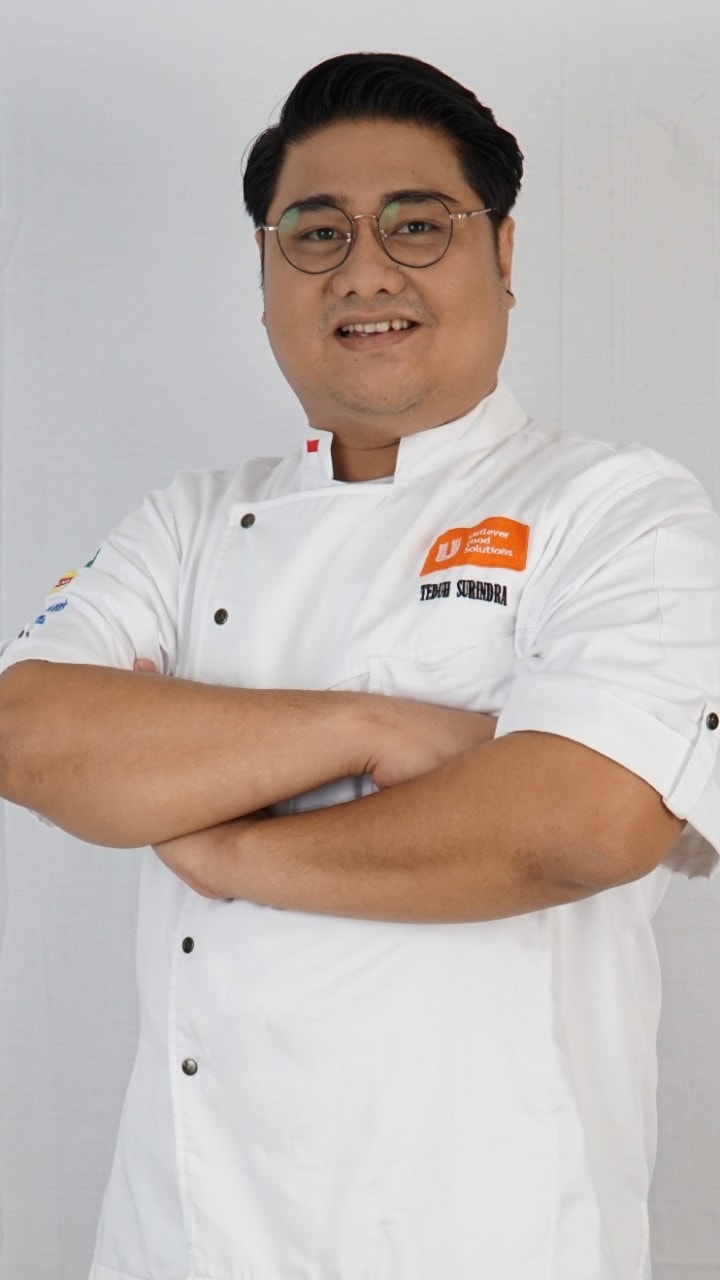 Teduh Suryndra
Sous Chef
Teduh Suryndra and culinary are two inseparable things. His parents that involved in the culinary world makes him interested in pursuing the art of taste. His love for culinary has made Teduh continue his studies in Culinary, Surabaya Hotel School. After graduating, cooking became his pathway. He has worked at Sheraton Hotel & Tower Surabaya, Sushi Hana Jakarta, Surabaya Plaza Hotel, and Santika Hotel Surabaya.
In 2015 Teduh joined Unilever Food Solutions as a Sous Chef. His expertise at cooking demonstrations inspires customers to create delicious dishes.