31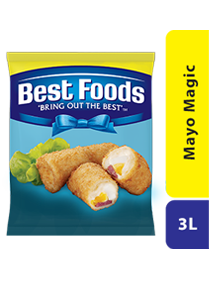 Perfect for hot application
Texture and Colour are stable up to 200⁰C
Suitable for a variety of applications: Stir frying, Filling, Baking, Decoration
From the World's #1 mayonnaise brand
See all product details
Packaging
Including 10% VAT
All product information
Nutrition and allergens
Ingredients
Water, soybean oil (contains antioxidant ascorbyl palmitat), sugar (contains sulphite), vinegar, egg, vegetable stabilizer, salt, preservatives potassium sorbate, mustard natural flavour (contains soybean, antioxidant tocopherol), sequestrans calcium disodium EDTA, paprika aquaresin
Allergen Information
Produced with the same equipment with products contain gluten, soybean, fish, and milk
| | |
| --- | --- |
| Total Energy kJ | - kJ |
| Total Energy kcal | 60.00 kcal |
| Protein | 0.00 g |
| Carbohydrate | 4.00 g |
| Sugars | 3.00 g |
| Fat | 4.00 g |
| Saturated Fat | 1.000 g |
| Dietary Fiber | 0.00 g |
| Sodium | 150.00 mg |
Key product information
Description
Best Foods Mayo Magic is made to give consistent yield for dish applications that need high temperature such as Stir frying, filling, baking, decorating. Even when heated up to 200℃, it remains stable without oil separation. Hence, keeping the ideal color and texture of the dish and at the same time bring out its rich taste.
Usage information
Benefits
Formulated for hot application, Can withstand heat up to 200℃.
Storage
Keep in cool and dry place. Keep in chiller at 4°C - 10°C after opening. Don't freeze it.