As brands become more aware of the growing shift from coffee to tea, they've been actively pushing new variants of tea beverages to the market. One of the more popular examples is Starbucks, who recently launched Teavana in September 2016 to relative success. With its contemporary take on tea houses, Teavana strives to streamline the custom of tea drinking by offering premium grade tea leaves and quality teaware products.

MixTealogy requires a skilled expertise and keen sense of palate to effortlessly blend different flavours. The end product is an exceptional creation that completes the culinary experience of tea drinking. Understanding the unique qualities and characteristics of tea is crucial in order to properly create pairings that fuse the natural body and aroma of each tea.

Traditional methods of serving tea over cream and sugar have sparked an innovative streak of creative blends over the years. Today's generation is keener to explore a wide spectrum of tastes and flavours that challenge their taste buds. Modern MixTealogy may seem a tad bit intimidating at first, but it offers a gratifying experience in return that exercises the artistic prowess of a tea sommelier to create a truly one-of-a-kind drink.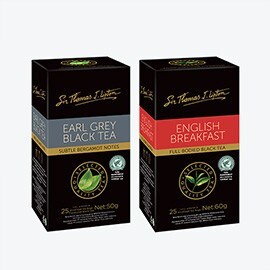 Black tea
Sir Thomas Lipton Earl Grey
Sir Thomas Lipton English Breakfast
An excellent coffee substitute, black tea boasts an incredible depth of flavour. With a streak of tannic sweetness to the body, its robust character is best paired with equally strong ingredients like cream, chocolate and spices. Served over ice or steaming hot, black tea possesses an extremely low caffeine content to offer a rich drink without the health risks.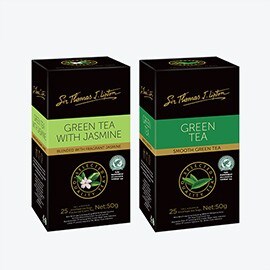 Green tea
Sir Thomas Lipton Green Tea
Sir Thomas Lipton Green Tea Jasmine
Delivering a grassy yet slightly nutty taste profile, green tea proves to be a challenge to blend due to its natural vegetative flavour. It is known for its myriad of health benefits such as improved brain function and lower risk of cancer. Light-bodied, it fuses well with citrus flavours like passion fruit and yuzu, and tastes exceptionally refreshing served over ice.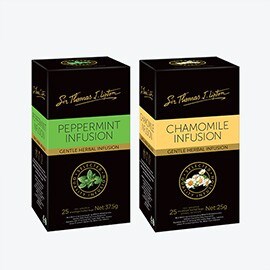 Infusions
Sir Thomas Lipton Peppermint Infusion
Sir Thomas Lipton Chamomile Infusion
Created with leaves from a non-tea origin, infusions are often produced from floral or herbal sources. Floral tea does not stimulate the taste buds but instead teases the sense of smell with lush, warm notes. The natural goodness of botanic ingredients can be further complemented when paired with honey and fruits.
Herbal teas, on the other hand, boast an incredibly versatile character that makes pairings a breeze. From fruit-based to floral ingredients, balance up the earthy notes of herbs with a tinge of light-hearted fragrance.