Some of your diners' favourite potato dishes like croquettes, perkedel (potato fritters), pastel (stuffed pastry). But it can take forever to cook from scratch especially the mashed potatoes. How to cook them faster?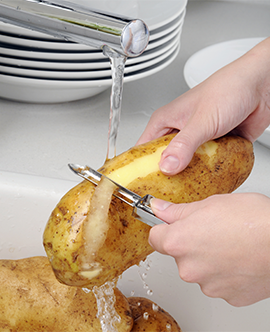 Processing potatoes the old way
Choosing potatoes
You have to choose potatoes that look fresh and don't come with blemishes or black spots.
Washing and boiling potatoes
After washing, you have to boil the potatoes to soften them and that normally takes 30 minutes or more.
Peeling potatoes
Peeling one potato will take about one minute. In total, it will take around 10-15 minutes to peel all the potatoes. 
Mashing potatoes
Mashing potatoes to make them ready-to-use is also very time consuming and requires a lot of effort. 
From choosing, boiling, peeling, to mashing potatoes, it takes about one hour to create the base mashed-potatoes.

What should you consider for ready-to-make mashed potato products? 
| | |
| --- | --- |
| Scratch: | Ready-to-make: |
| More hassle. You have to choose, boil peel and mash the potatoes. | More practical. Just prepare the product, mix and stir. |
| Energy consuming. | More energy saving. |
| Need around one hour to make mashed potatoes. | Only 3 – 5 minutes to prepare ready-to-make mashed potatoes. |
| The taste might not be consistent due to the differences in potatoes. | More consistent taste since the product composition is standard. |
| Expire quickly. | Longer expiration date since the content is properly packaged. |
Is using Knorr Potato Flakes really more practical? See the comparison in this video.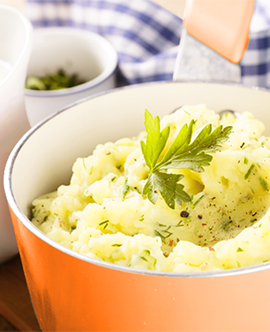 What should you consider for ready-to-make mashed potato products?
Will it taste the same? 
This is very important because a change in taste can turn your diners off. 
Which one is more efficient?
Compare the time it takes you to make a mashed potato dish from scratch and with this ready-to-make product.
What's the potato quality
Always look at the potato percentage composition. If it's more than 90%, you can be sure that the quality will not be very different from using regular potatoes.
If it's true that Knorr Potato flakes can cook faster and easier, how to use the product?
Choose the Knorr Potato Flakes you need.
A 500g pack makes 3.75kg of mashed potato, and a 4kg pack makes 30kg of mashed potato. 
Boil water and add salt to taste.
You will need 2.5l of boiled water and 17.5g of salt for the 500g pack. Remove from heat at around 85oC and you can also substitute water with milk for a creamier texture. 
Add Knorr Potato Flakes and stir.  
Your mashed potato base is ready!  

Do you want to make many potato dishes in an easy and quick way for your restaurant? See the recipe here!