Knorr Potato Flakes 500g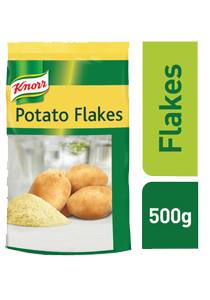 Preparation
To make mashed potato:
1. Boil 2.25 litres of water with 17.5g salt, then remove from heat.
2. Add 1 litre of cold water of milk, then briskly stir in 500g potato flakes.
3. Stir briefly again after 2-3 minutes until smooth.
Yield
3.7kg mashed potato
Storage
Close pack tightly. Store in a cool and dry place
Ingredients
99% Potatoes, emulsifier mono-and diglyceride from fatty acid, stabilizer disodium diphosphate, spice natural flavour (contains wheat), turmeric natural flavour, preservative metabisulphite.
May contain traces of cereals containing gluten, milk, egg, fish, crustacean, mollusc, soy, peanut and tree nuts.
Description
Knorr Potato Flakes is made with sustainably grown potatoes from Germany to help you create great tasting potato dishes in just 5 minutes. Processed from real potatoes into flakes, it is versatile for creating a variety of dishes like mashed potato sides, croquettes, topping for pies, and additional ingredient for bread and doughnut.


| Item | Per portion |
| --- | --- |
| Total Energy kJ | - kJ |
| Total Energy kcal | 45.00 kcal |
| Protein | 0.00 g |
| Carbohydrate | 11.00 g |
| Sugars | 0.00 g |
| Fat | 0.00 g |
| Saturated Fat | 0.000 g |
| Dietary Fiber | 1.00 g |
| Sodium | 15.00 mg |