Lipton Yellow Label 100 Tea Bag Non Envelope
Lipton Yellow Label 100 Tea Bag Non Envelope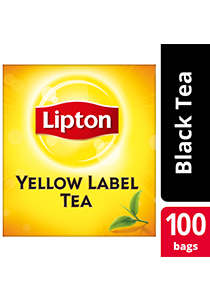 Lipton Yellow Label 100 Tea Bag Non Envelope
The best quality of black tea
Pure, international standard blend
Large tea leaves for better infusion
Get more profit by using Lipton Yellow Label Tea
More product and allergy information
---
Costs are increasing, and to maintain my profit, I must deliver a more premium offering. Diners will pay more for more.
Lipton Yellow Label, world-class tea that helps you increase your profit.
The best quality of black tea
Pure, international standard blend
Large tea leaves for better infusion
Get more profit by using Lipton Yellow Label Tea
Lipton, the World's #1 tea brand
---
All product information
Nutrition and allergens
| Item | Per portion |
| --- | --- |
| Total Energy kJ | - kJ |
| Total Energy kcal | - kcal |
| Protein | - g |
| Carbohydrate | - g |
| Sugars | - g |
| Fat | - g |
| Saturated Fat | - g |
| Dietary Fiber | - g |
| Sodium | - mg |
Key product information
Description
With a rich taste and aroma, every sip is a burst of sunshine. It's all thanks to the great taste of the high quality tea leaves we put in our blends. Our tea is Rainforest Alliance Certified. This means we're working with the rainforest alliance to improve the social, environmental, and economic conditions of the people who grow and pick every leaf in your cup. Tea for all occasions - classic hot tea, ideal for all-day service, refreshing ice tea suitable for serving with meals or snacks, soothing milk tea for service during breakfast, lunch, afternoon tea occasions, delicious mocktails and cocktails to delight guests as menu specials.
Usage information
Preparation
Put 1 teabag into the cup, add 200 ml boiling water. Let it infuse for 2 - 3 minutes. Take out the teabag. Stir and ready for consumption
Storage
Store in a cool dry place