Five owners of Kambing Bakar Bang Ndut (left to right) Eka, Wahyu, Jiank, Bahari, Ustadz Joko Abu 'Aliyah.
Kambing Bakar Bang Ndut in Medan is an example of restaurant that can quickly increase their sales. By creating new dish roasted goat thigh through innovation, their restaurant is flooded with orders and they managed to achieve return of investment within 9 months. Of course, it's not happening in a blink of an eye. There is a lotto learn from when they first started, and it could inspire other prospective culinary businessmen as well. How did the story go?
This restaurant starts on August 2018. Founded together by Bahari, Wahyu, Eka, and Jiankbefore then joined Ustadz Joko Abu 'Aliyah. In the beginning, they sell soup, goat steak, and instant noodles. Easily made and popular dishes, but there were many of those already exist on the market, so the sales tend to stay so so.
Not wanting their restaurant to stagnate, they went on discussion to find out which menu the customers find interesting. After several discussions and mapping the culinary businesses in Medan, they got the idea to make roasted goat thigh which did not exist in restaurants' menu by then.
Bahari as the cook then immediately went to the kitchen to start a trial to find the best recipe for roasted goat thigh that suits the taste of Medan folk. He tried combining western-style with Javanese and experimenting on it a few times. After 3 to 4 tests on its flavor by asking friends and family to try it, he managed to find which one is the best among them. "Once we're certain it taste good, we then launch this roasted goat thigh on our menu," said Bahari.
Innovation is the beginning of success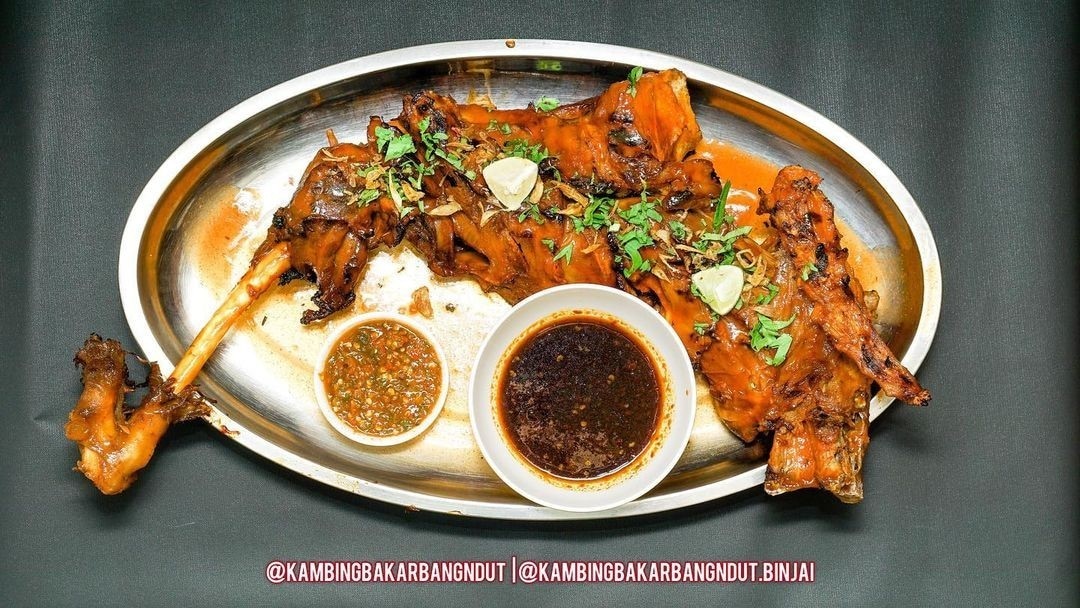 Roasted goat thigh, customers' favorite in Kambing Bakar Bang Ndut.
Their estimation was correct. In short time, their roasted goat thigh became a best seller. Even from the start, this menu was a hot topic in Medan which tickles customers' curiosity, bringing crowds to their tables.
To popularize their restaurant, they agreed to name their restaurant Kambing Bakar Bang Ndut. A name that is easily remembered from their signature menu which made their sales exploded. They could sale up to 50 portion a day, even though the price offered is still above average on 162k to 350k per portion, yet people remain willing to line up.
Other than roasted thigh, satay is also a popular menu. To make it more attractive, they put large cuts of meat on the each stick. For other palate, they also serve goat soup, beef soup, goat fried rice, and roasted chicken. 
Because of their rising fame, more and more restaurants followed the trend set by Kambing Bakar Bang Ndut. "Many are copying our menu, that's why we'll continue to innovate. Once of which is the sei dish that is currently trending. Instead of beef sei, we're going to try making goat sei," said Bahari.
Best ingredients for delightful taste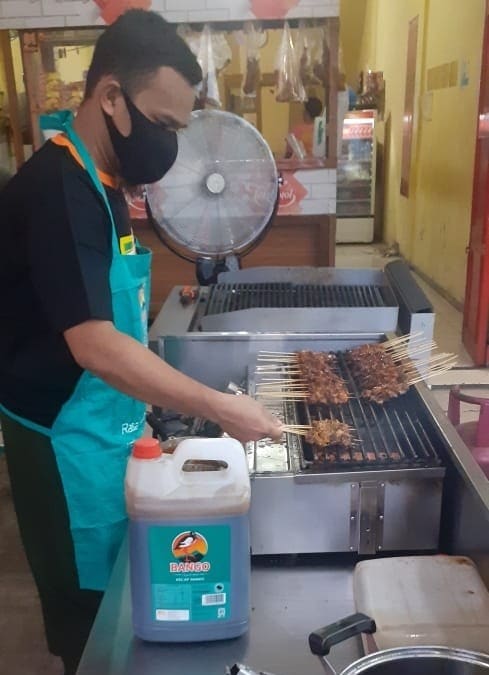 Kecap Bango is their mainstay.
To continue innovating, Bahari always use the best ingredients for his dishes. His experience in culinary industry enlightened him that to get the best flavor in a dish, the best ingredients are a must. "For the seasoning, we use Bango sweet soy sauce. I've worked in several different restaurants before, and Bango is the best option for any roasted dish, so that's what we use from the start," said Bahari.

To seeps perfectly into the dishes, a mixture of cooking techniques common to the West, Javanese, and Medan is used, and it starts with the process of slowly cooking the meat. On this process, Bango sweet soy sauce which is made from natural ingredients such as palm sugar, soy beans, salt, and water, can blend perfectly with the spices of Western, Medan, and Java, and even help removing the smell of goat meat. During the roasting process, the sweet soy sauce caramelizes perfectly to give an appealing and delightful color to the goat thigh.
It's the same for other ingredients. For example, when picking goat thigh for the dish, they choose only young goat around 3 to 7 months old. To ensure that the goat meat fulfil their criteria, they cooperate with vendors that can guarantee its availability. This tight quality control ensures that no customer will ever have a reason to complain that the meat of their roasted goat thigh is tough.
Digital marketing is key to grow the business
Other than delightful taste and appealing presentation, much of their sales are also thanks in part to digital marketing. When they first opened the restaurant, they asked for friends and family to dine in and post their roasted goat thigh dish on the Instagram. The results were amazing. Their dish became viral and many were curious to try. When they made a small survey for the customers, most admitted to know about Kambing Bakar Bang Ndut from Instagram story. Because of its proven effectiveness, they allocate a budget to promote on social media, especially Facebook and Instagram.
After putting on advertisement, Bang Ndut also cooperated with influencers to promote their restaurant. They served dishes for food bloggers to be reviewed, and this too was proven to be effective as more new customers coming in, including visitors from out-of-town who visited just to get a taste of their special roasted goat thigh dish.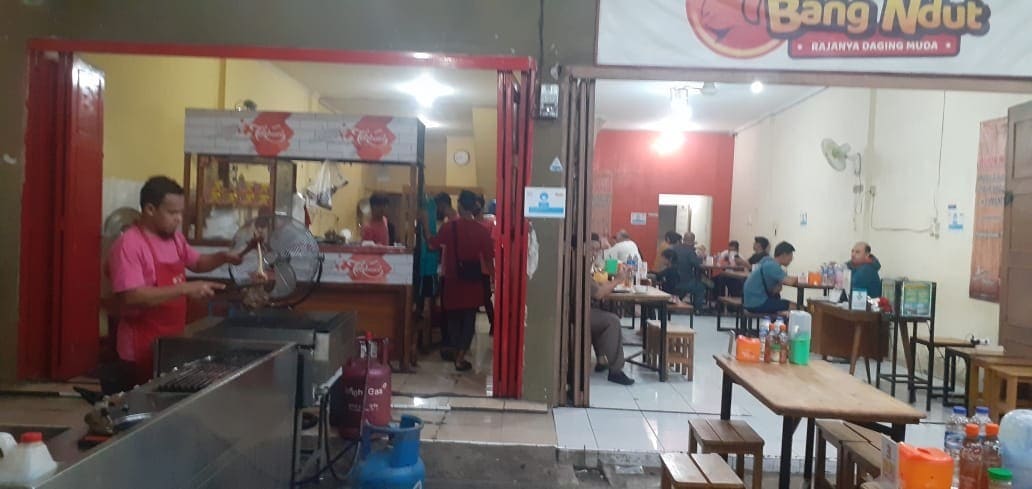 Roasting process done in front becomes an attraction to gain customers' interest.
Additionally, Bang Ndut also prioritize great serving experience. For example, during Ramadhan, they placed a reservation system from noon to prevent customers'disappointment from running out of seats. This is not only done for dine in, but also delivery. They even have their own delivery service for better flexibility and to ensure that their dishes reach customers' hand quicker.
As a standard, Kambing Bakar Bang Ndut requires that a dish must be served within 15 minutes before breaking the fast. Afterwards, no order will be served until the fast is broken. This is done not only to prevent customers from not getting their dishes when break fasting comes, but also to give time for their employees to pray and break their own fast.
That's how Kambing Bakar Bang Ndut grew. They hoped that in the future, a similar concept may continue to grow with more branches. "We will continue to innovate, and everything's easier with Bango. We hope that our dishes will be more widely known by the public."  
Tips on success a la Kambing Bakar Bang Ndut
Creating new dish which is not served by other restaurants.
Creating an easy-to-remember brand name.
Serving a unique dish that is Instagramable.
Ensuring the best ingredients for the dishes.
Using quality seasoning, such as Bango sweet soy sauce.
Turn friends and family into micro-influencer.