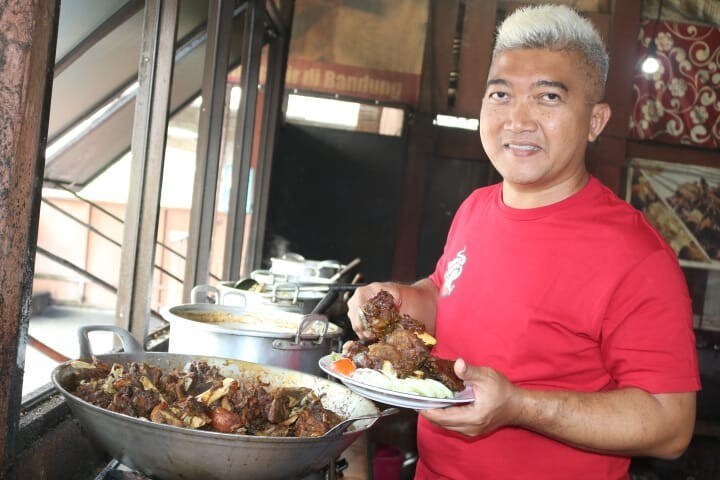 Setyo Hartono, founder of Tengkleng Gajah.
In modern culinary business world, having a delicious dish alone is not enough. An instagrammable presentation of the dish along with the correct digital marketing strategy are keys for increasing your dish sales, and this is what Setyo Hartono, owner of the Tengkleng Gajah restaurant, has put into practice. What are the tips?
For first-time visitors to Yogyakarta, hearing the name Tengkleng Gajah would immediately cause the mind to wander with questions. What is made of and how big is the portion? This image of large portion is almost certain to appear in their mind, and this idea is what makes it so attractive. For those familiar with the terms tengkleng, which is synonymous to a dish made from goat bone from Solo, they would know that this dish has little meat there were only leftovers that remain on the bones. For this reason, the name gajah (meaning 'elephant') becomes very appealing.
The beginning of this restaurant starts with the popularity of tengkleng dishes in Yogyakarta. As a culinary lover, Hartono saw that no tengkleng restaurant in Yogya have served a unique variant of the dish. "From what I saw, the tengkleng sold around here has got little meat in the dish. That's why I opted to make tengkleng dish that has more meat in it. We also put large-sized bones into our tengkleng as opposed to the small ones that are more common. That's why it's called tengkleng gajah," said Hartono.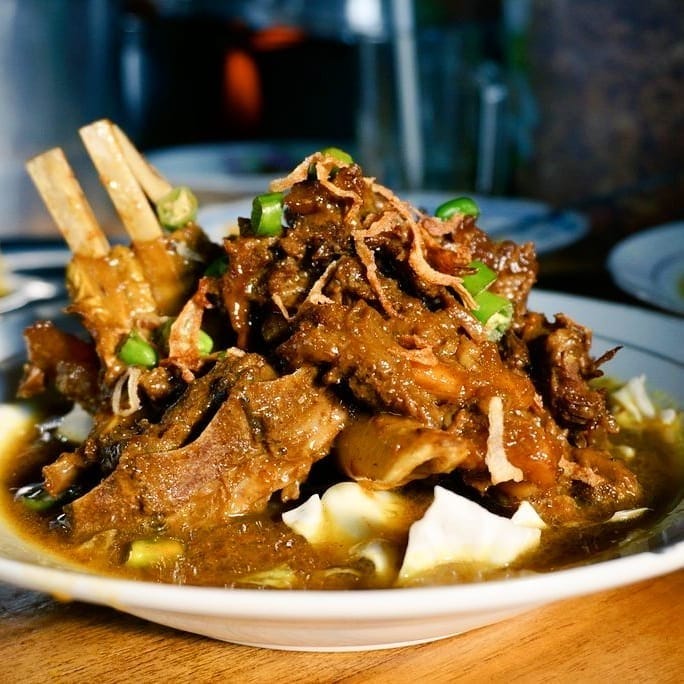 Jumbo-sized tengkleng is customers' favorite.
The large bones in their tengkleng dish made the name Tengkleng Gajah famous pretty quickly and soon enough, it became a must-go spot for culinary lovers. "This unique presentation of tengkleng makes a lot of customers keep returning here," said Hartono.
Special seasoning, key to mouth watering dishes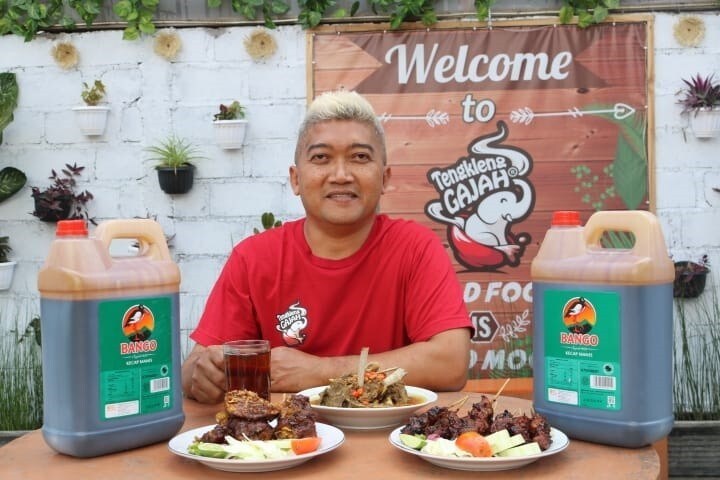 Setyo Hartono and his best seller dishes made with Bango Sweet Soy Sauce.
Nowadays, Tengkleng Gajah also sells various dishes made with goat bones, such as original tengkleng, fried tengkleng, tengkleng sambel bawang, tongseng, curry, goat fried rice, and briyani rice. Almost all of them use sweet soy sauce for seasoning, except for original tengkleng and curry.
Hartono admitted that he's been using Bango for the sweet soy sauce ever since his restaurant started, But as culinary lover, he did try to use other brands and put their flavors into comparison. "Bango is the best, after all. That's why I've been using it from the start for almost every dish in my restaurant. Its flavor is consistent, and has good coloring and glaze. It also gives a strong caramel flavor," mentioned Hartono.
For 13 years he's been using Bango as seasoning in his restaurant, and he is satisfied with his choice. As an example, for Tengkleng Gajah with Tongseng broth dish, the lengthy cooking process before it is served with the tongseng broth doesn't make it lose its flavor. Not to mention, the brownish color produced is very much distinct of Javanese dishes, with balanced savory and sweet flavor.
Fighting through crisis with digital marketing
Technology is really helpful for the development of Tengkleng Gajah restaurant, especially during hard times. Since 2018, he routinely advertised his dishes in social media, specifically Facebook and Instagram. It turned out to be an effective way to get new customers. After regularly advertising his restaurants, sales increased by 20% on weekdays and even up to 50% on the weekend.
Hartono has a small trick when advertising his dishes in social media. He would converse with customers coming to his restaurant and asked where they were from. Once he finds out, he would promote his dishes based on that insight. For example, say that a bus full of customers is coming from Surabaya to his restaurant, he would direct the media social promotion to Surabaya region. The small talk he has with the customers become the clue on where to promote his dishes. This creativity in using social media successfully increased the sales of Tengkleng Gajah, including during the time of crisis.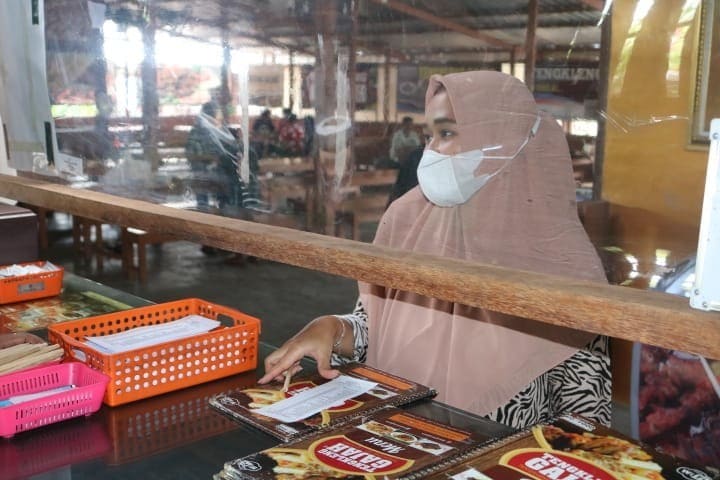 The application of health protocol during pandemic.
When pandemic comes in 2020, the sales dropped by up to 50% compared to normal times, so several steps were taken to keep it stable. The first step was to apply the health protocol so that customers can feel safe during dine in. Second, they rely on digital marketing on social media for promotion. "The purpose is to inform customers that our restaurant stays open. It was also targeted specifically to Yogyakarta region as mobility was highly limited and visitors from other regions were also lessened in number," he explained.
Innovation and challenge to go forward
Other than the pandemic, the coming Ramadhan also brings its own challenge to Tengkleng Gajah as customers would come altogether to break their fast. In order to avoid crowding customers in the evening, they would suggest that customers reserve a place beforehand so that their order could be prepared in advance. Such messages are regularly informed via their social media.
Then, on the evening when customers are coming in, employees could easily regulate the seats in accordance to the health protocol during pandemic. This reservation system really helps in serving their menu as orders did not come all at once at a time. Other than applying reservation system, they also prepared an expansion to dining area as anticipation in case of crowding.
Tengkleng Gajah also made frozen food product for its customers. These frozen food products are currently undergoing serious development through laboratory testing in LIPI (Indonesia Institute of Sciences). In the near future, Tengkleng Gajah will launch their own canned frozen food to complement the existing one that has plastic packaging.
These new frozen food product will be their new main menu forward, as there are many people who would like to break their fast at home with tengkleng dishes. Also, this kind of innovation is what will make Hartono's restaurant stays in business and continues to grow. Let's wait for news of what's next from Tengkleng Gajah.
Tips for success a la Tengkleng Gajah
Giving a plus for a dish that is already popular by increasing its portion size.
Pick a branding that tickles customers' curiosity.
Using digital marketing to increase sales.
Getting insight from customers to determine the best marketing target.
Using Bango sweet soy sauce for delicious flavor and glazing presentation.
Never stop innovating – they plan to add canned dish to further their market reach.