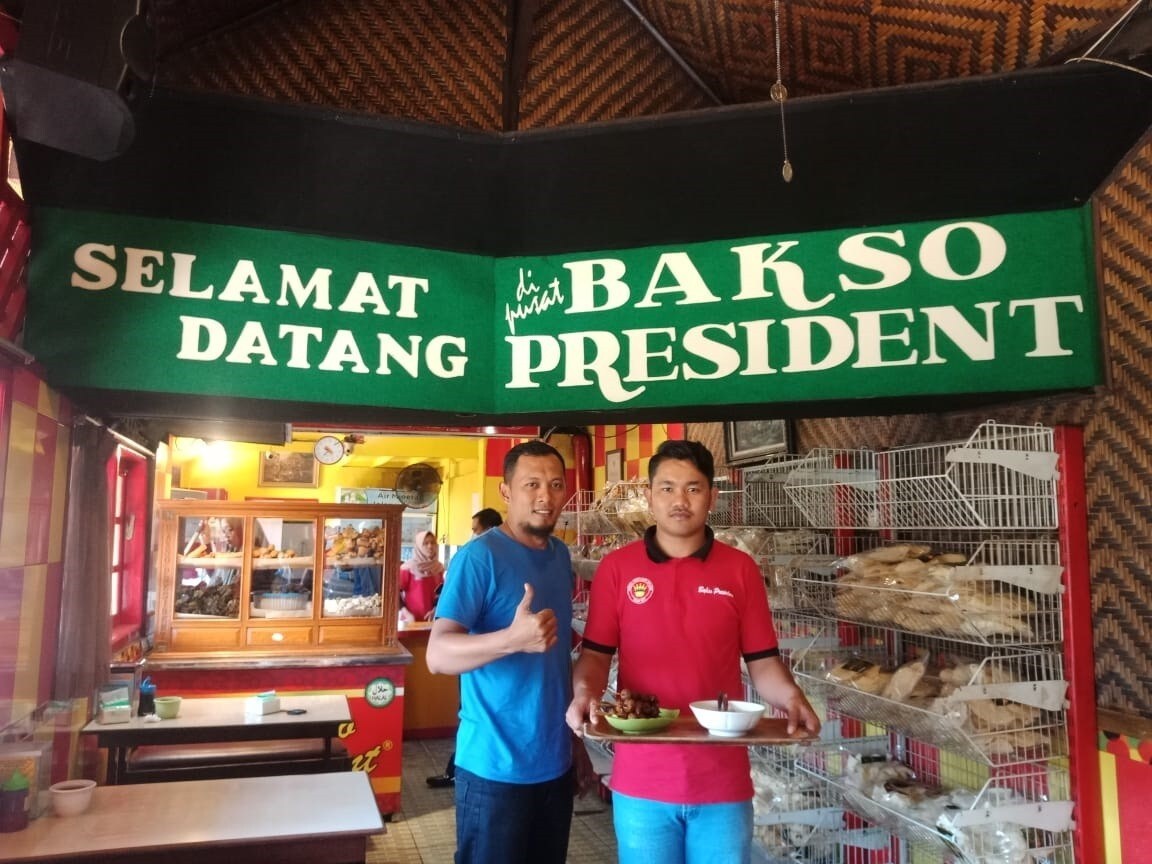 HM Ali Wahdani, Operational Manager of Bakso President (left), in Bakso President central outlet.
Bakso President is a culinary icon of the city of Malang that is a must-go destination for meatball lovers. Its patron is not limited to the citizen of Malang, but also includes visitors from neighboring cities. It is rather unusual, as theoretically, the place was lacking in comfort. It doesn't have the best location as well. Instead, the disadvantage of this meatball stand made it an icon of Malang. How come?
Bakso President is located beside a railway line, just about 2 meter off. The customers could feel the tremor when a train passes by. Sometimes, when it is crowded, they have to relocate from their seat momentarily for their safety. The noise of passing train is a normal occurrence here.
Despite its downside, the customers are not dissuaded from coming back. This meatball stall is bustling on regular basis. At times, customers may have to wait for one and a half hour before getting their order served. Bakso President can sell 2,000 bowls of meatball within a day during the holiday season. Certainly, they made a lot of profit.
Quality is always the number one
Bakso President was built in 1977 by H. Abdul Ghandi Sugito, known as Abah Sugito. "Early on, Abah worked in a meatball stand, not owning one. Well, he had no money and had no particular skill of note. That was all he could do to survive," mentioned Dani, full name Ali Wahdani, the Operational Manager of Bakso President. After about five years he spent on serving meatball in that stand, Abah was able to gather a sum for his own stall. He set up his stall under a tent, behind the President Theatre, Malang, and the name eventually became the name for his stall. That location is where the present main outlet of Bakso President stands today.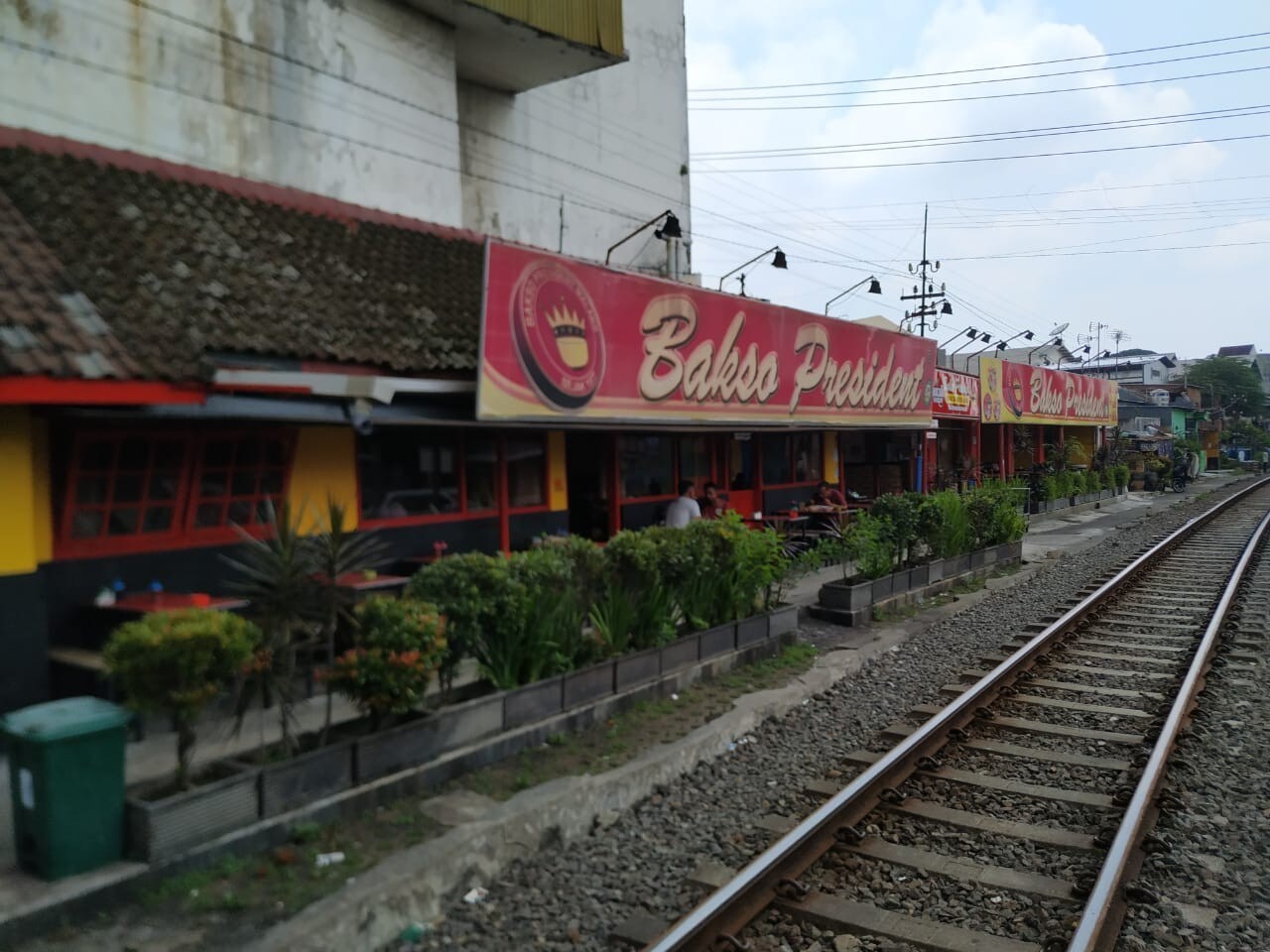 Bakso President located the side of a railway line.
Other than the quality of flavor, the upside of this restaurant is that they also provide almost every sort of meatball variant. The big ones, the small ones, roasted meatball, shrimp meatball, bakso urat (vein meatball), egg meatball, liver and gizzard meatball, lungs meatball, meatball crackers, and also siomay, both fried and with broth. Among the varieties of meatball, the roasted meatball is favorite among customers. It is recommended by most, including by the food vloggers. The addition of sweet soy sauce in this roasted meatball is what makes it so delicious.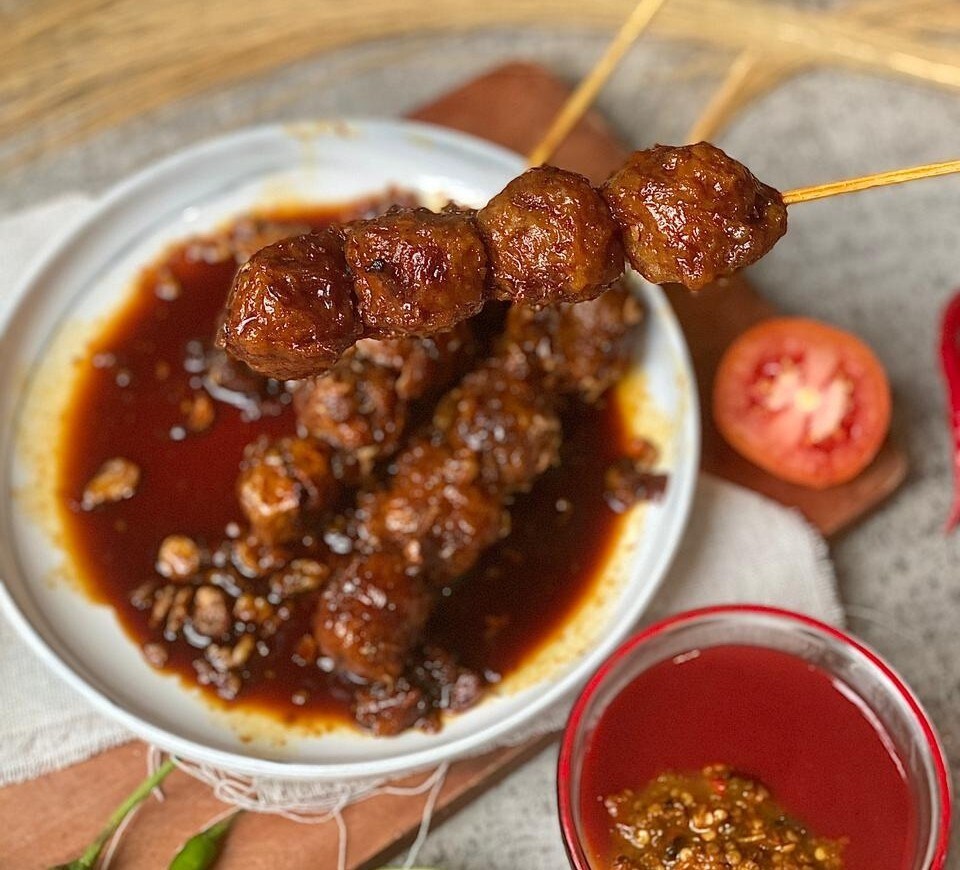 Roasted meatball, the costumer's favorite, uses Bango for seasoning.
The appearance of roasted meatball in their menu has a long story. H. Rokhman Aji, the son of Abah Sugito who is now in charge of the business, often to invite his friends, one of them is Dani, to experiment together. At the time, they tried making roasted meatballs. "There were eight different brands of sweet soy sauce to be put in the recipe of roasted meatball. With eyes closed, we determined which one was the best for the roasted meatballs. In the testing, from with just pure soy sauce to the addition of spices, the Bango was always the most favored. Finally, Bango was chosen to be the seasoning for roasted meatball dish, and the recipe has not changed to this day since its launching around 1998," Dani told the tale.
Bango sweet soy sauce does ease the roasting process. Usually, when utilizing other sweet soy sauce, the marinade is being absorbed faster due to the meatballs having bigger pore. This often made the salty savory taste of the meatballs being dominated by the sweetness of soy sauce. It is different with Kecap Bango. Its thick condensed texture caramelized and made the dark brown color looks more appealing. Furthermore, it does not remove the salty taste of the meatball. The thick liquid of Bango also prevents it from dripping upon roasting, so it is more efficient. Its precise balance of sweet and savory flavor made it fit for condiment as well. Either for dipping sauce for the fried dishes or as addition for the broth of the meatball soup for those who prefer sweeter broth.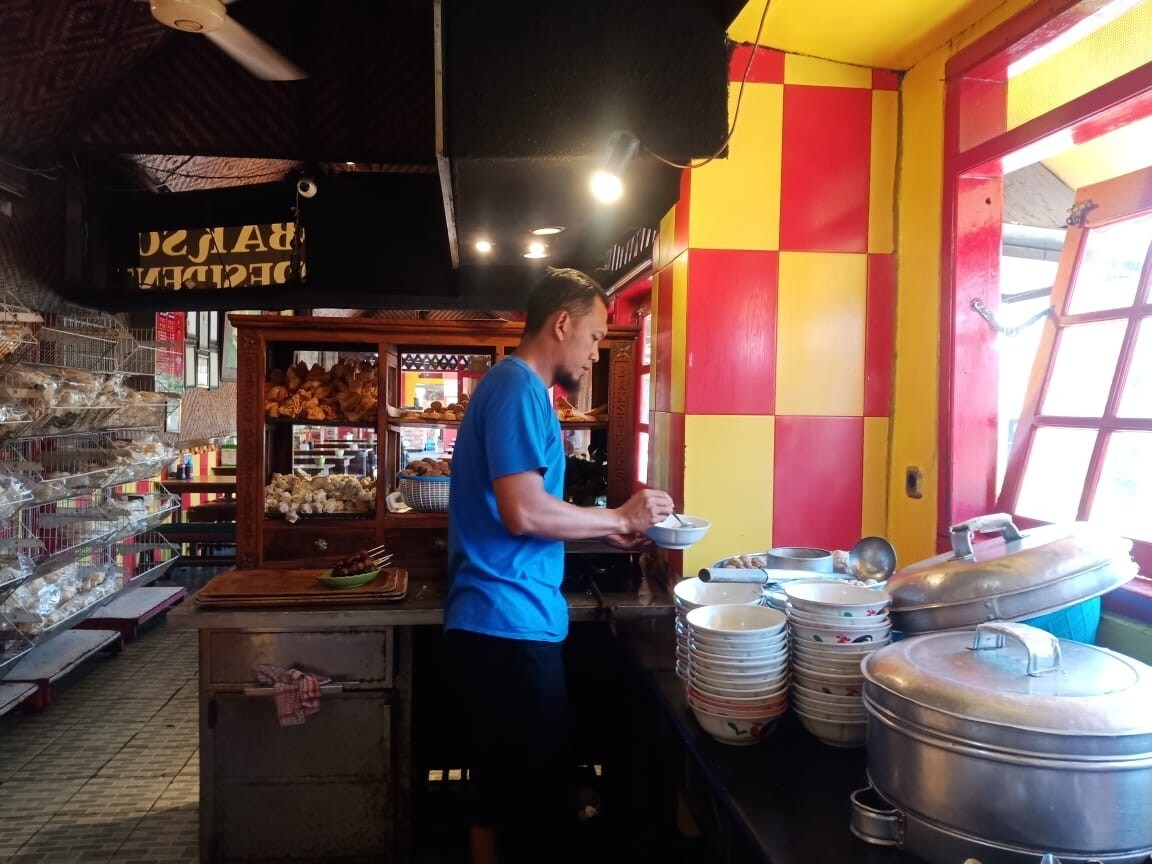 HM Ali Wahdani, checking on the taste quality.
Challenges on maintaining and upgrading business
Now at over 40 years old, Bakso President has two other branches. They are still located within the city of Malang, specifically in Pulosari and Pandean. Since it is managed by the second generation owner, the operational and service standard have been improved. "For example about the amount of sales on the meatball, everything is calculated already. It ensures that our meatballs are always fresh because they were made on the same day," declared Dani proudly.
For customer services, Dani made a point that mannerism is the key to keep them coming. "So, if there are any complaints, I will personally be in contact with said costumer. Commonly, after an apology and compromising on the problem, the complaining customers instead became our regular patron," said Dani, revealing his secret on maintaining good relation with customers.
When the epidemic hit, their revenue had gone down by 40 percent at one point. Although it was the moment to stand their ground, they instead found a new way, that is to innovate by creating frozen meatballs and it paid off. "If normally stocks of seasoning packages in our branch would last for a week, since we had frozen foods, it only lasted for two up to three days," explained Dani. To preserve the quality of the frozen food products, they applied vacuum technology to diminish the risk of bacterial contamination and made them last longer. "The frozen food innovation broaden our marketing as it turns out, as even at some time we also delivered them to Singapore and Australia."
In the pandemic time, they also improve the standard of hygiene and comfort for customers. "Some of our employees had earned their certification of food safety tested by the government of Malang." These certificates ensure they can maintain the condition of our kitchen, the sanitation, self-hygiene, and also food preservation. Those already certified will tutor the other employees to understand the hygiene and sanitation in culinary business better.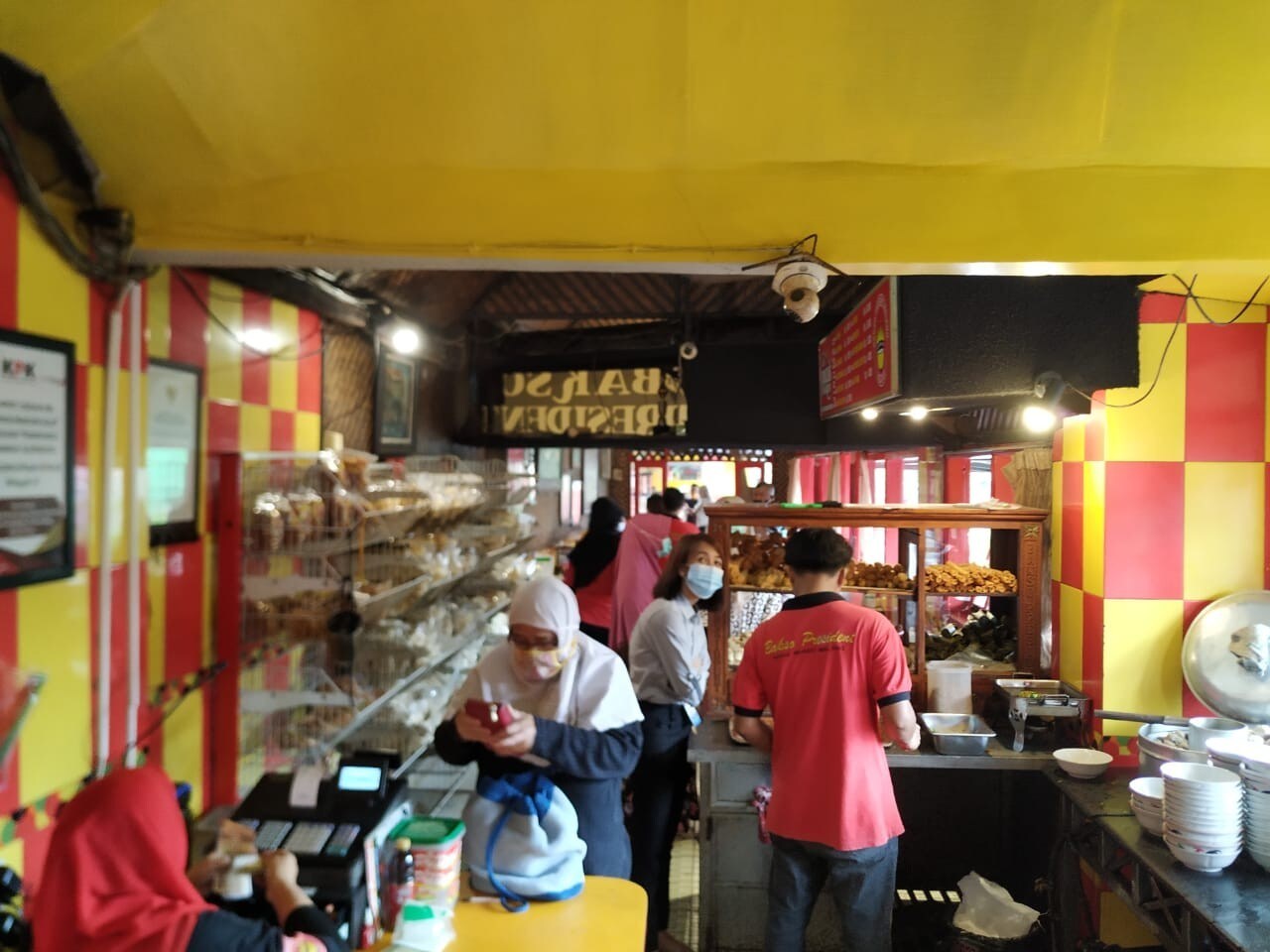 The condition of Bakso President main outlet.
Now, Bakso President have become an icon to Malang city with its unique characteristics. "You haven't visited Malang if you haven't stopped at Bakso President," quoted Dani. With its uniqueness, Dani admitted on wanting to keep Bakso President to be only opened in Malang. Even if there would be any potential for cooperation, he will direct them to their frozen meatball products. "We have sold our frozen meatballs in the marketplace for those who miss our meatballs." A simple marketing strategy, but a plus point of its own. The craving of regulars is what always the main factor that made it a legend.
Success tips á la Bakso President
Find unique things for the story of restaurant. For example the location that can be an icon to a city.
Made a recipe of seasoning with designated dose so the flavor will always be the same.
Experiment on making meals, but it has to fit the preferences in the market.
Handle complaints directly to the top management.
Sell frozen food in the market place to broaden opportunity in marketing.
Enable employees to get their food safety certification.