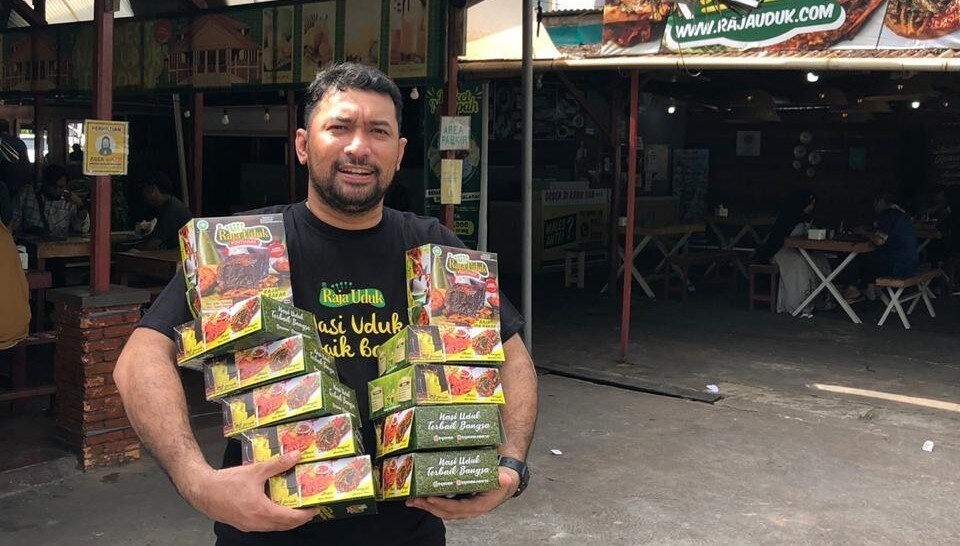 Rizal Kurniady, founder of Raja Uduk.
Raja Uduk is a popular destination for culinary lovers when visiting Pontianak. This brand of restaurant is iconic to the city which sits on the equator and can be found at 3 different spots: at Teuku Umar Street, Dr. Sutomo Street, and Sui Raya Dalam Street. Also, there is a branch in Jakarta in Tebet for those who want to try the savory uduk rice of this restaurant. How did the story go that this simple Betawi dish could be the icon of Pontianak?
Rizal started this restaurant after the bankruptcy from his previous businesses on cellphone credit and property in Jakarta. As he reminisced, "I had suffered bankruptcy for several times. Out of cash, deep in debt." He mentioned in remembrance. At that critical point, he decided to bet his luck in his hometown.
In the beginning, he came up with motorcycle cleaning service by renting the parking space of the café belonging to his friend. Then, after eight months, he got an opportunity for rent at some other location. What he found was the perfect spot for different sort of business, as it was the culinary center of the city.
His mind recognized the challenge and the opportunity. He took a survey on the potential of costumer through traffic density. Also, he took many photographs from many local restaurants along the site. Those data were collected in order to make his proposal for culinary business. After that, he came in contact with some of his closest friends. With the loan he got from the proposal, he started his business in September 2011. "I was very lucky. Even at my lowest point, with the debt and all, there were friends who believed in me and willing to help," he said. Rizal then chose to specialize on nasi uduk (uduk rice) due to its simplicity, its popularity among Indonesians, and its affordability.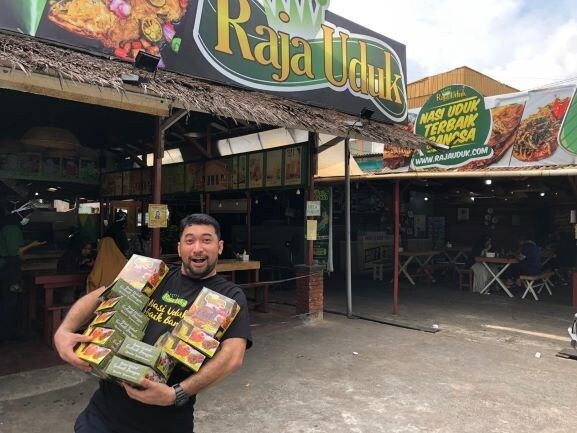 Rizal Kurniady in front of Raja Uduk at Teuku Umar Street, Pontianak.
Relying on word of mouth marketing
Creativity is a trait Rizal picked up from his business experience. Raja Uduk, as he named his restaurant, was meant as a prayer to its success. Of course, he also had a marketing strategy to gather customers from the start. It was simple, invite his relatives and acquaintances to come and have a taste. However, he did not bid them to come all at once. His trick was to made scheduled invitation so that they came and go transitively to create an effect so that as if Raja Uduk was always crowded with costumers.
The feel of a crowd drew onlookers to visit, and the opportunity was utilized by Rizal to interact with them. He would asked for opinions on the menu provided. He also admitted to converse with the customers to keep a close relation with them. "I want our customers to be our ambassador, so that they would tell others about Raja Uduk. With that in mind, it is very important for us to preserve the quality of the taste and to keep on improving our service," Rizal said as he revealed the secret behind his success.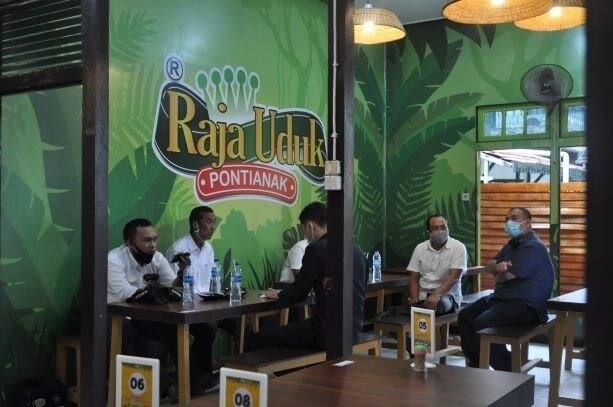 The mood while dining in Raja Uduk.
Taste Standard as Marked Identity
A very strict standard was applied for all servings in Raja Uduk. Each branch of restaurant has to use the identical ingredients, from rice, coconut, to even the spices, all of them are the same in Jakarta with those in Pontianak.
"Rice and coconut in Jakarta are supplied from Pontianak. I had searched for rice in Jakarta to Pasar Induk Kramat Jati, but none was the same with what we have in Pontianak. The coconut too came from Pontianak, since the quality of the milk is different with those found in Jakarta," said Rizal.
According to Rizal, the difference in the rice would affect the delicacy of uduk rice. Rice from Pontianak mixes perfectly with the coconut milk, while others could not and the resulting dish wasn't as savory.
The seasoning for the dish must also be of quality. For roasted dishes, such as roasted ribs and roasted chicken, Raja Uduk uses Bango sweet soy sauce. From before the roasting, Bango helps giving just the right flavor on the ribs or the chicken when steamed. The natural ingredients of Bango seep in without interfering the mixture of seasoning, and also prevent overcooking when roasting. Furthermore, the caramelized sweet soy sauce makes for glaze that is so appetizing. "We use Bango because it was recommended by my mother," Rizal said. "We had tried other brands before, but they tasted different, so we don't use them anymore. The taste of Bango is consistent, unchanging through the passage of time. Here, dishes that use sweet soy sauce use Bango for certain."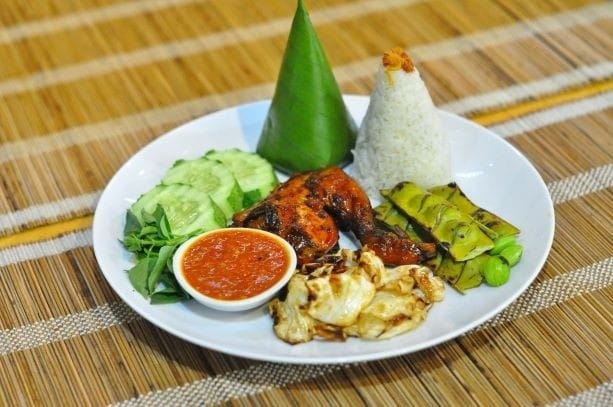 Costumers favorite, uduk rice.
Solution and plus point as focus
Ever since he started his culinary business, he held on the principle that his restaurant must give plus point to customers. While other restaurants serve their uduk rice as it is with less than tidy restaurant and so so service, he paid attention to those values. His restaurant is always clean, and customer-friendly is a must.
Rizal also did his best to give solutions for the customers. One of the instances was during the pandemic. With limitation on outside activity, it hinders people from dining in his place. That sparked an idea in his mind to make frozen uduk rice. Also, he came up with bakwan Pontianak snack as well.
As it turns out, those creations he prepared for personal customers brought him extra fortune. Sales of Raja Uduk went up as many orders of frozen uduk rice came from other restaurants. Rizal also create hamper packaging for frozen food products with ready-to-eat roasted chicken as the filling.
The steps he took brought up the revenue from where it was down to only 10 percent of what it used to be during normal situation, slowly rising to the range of 60 to 70 percent of the normal state profit.
To keep his business going, many new menus were created to survive through epidemic era, and frozen food became the mainstay. "The point is that we have to trust the quality of our product, and we also have backing from Bango. We hope, in the future, we can keep growing and open up even more branches," Rizal closed.
Tips to Success à la Raja Uduk
Choose popular serving menus loved by many.
Utilizing word of mouth marketing technique by turning customers into ambassadors.
Provide plus point and solution unique from competitors.
Applying strict quality on ingredients that is hard to copy.
Using consistent seasoning such as Bango to preserve delicacy.
Create family package menu to increase sales.