Knorr Chicken Flavoured Seasoning 1kg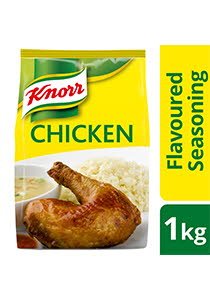 Preparation
For Stir-Frying, Marinating and Seasoning: Sprinkle desired amount of KNORR Chicken Flavoured Seasoning Powder to improve flavour and taste of foods. For Soup Base: Dissolve 20g (2 heaped tablespoons) of KNORR Chicken Flavoured Seasoning Powder in 1L of boiling water.
Yield
50L of Chicken Stock
Storage
Close pack tightly and Store in dry and cool place
Allergen Information
May contain traces of cereals containing gluten, fish, crustacean, mollusc, peanut and tree nuts.
Ingredients
Salt, enhancer (monosodium glutamate, disodium inosinate and guanylate), cornstarch, sugar, maltodextrin, palm fat, synthetic chicken flavour [( contains egg, wheat), lactose (milk derivative), canola seed, antioxidant tocopherol], soy sauce powder (contains wheat, caramel class III), and spices.
Description
Made for Chefs by Chefs. Knorr Chicken Flavoured Seasoning gives delicious umami chicken flavour to all your dishes.


| Item | Per portion |
| --- | --- |
| Total Energy kJ | 0.00 kJ |
| Total Energy kcal | 10.00 kcal |
| Protein | 0.00 g |
| Carbohydrate | 1.00 g |
| Sugars | 0.00 g |
| Fat | 0.00 g |
| Saturated Fat | 0.000 g |
| Dietary Fiber | 0.00 g |
| Sodium | 660.00 mg |