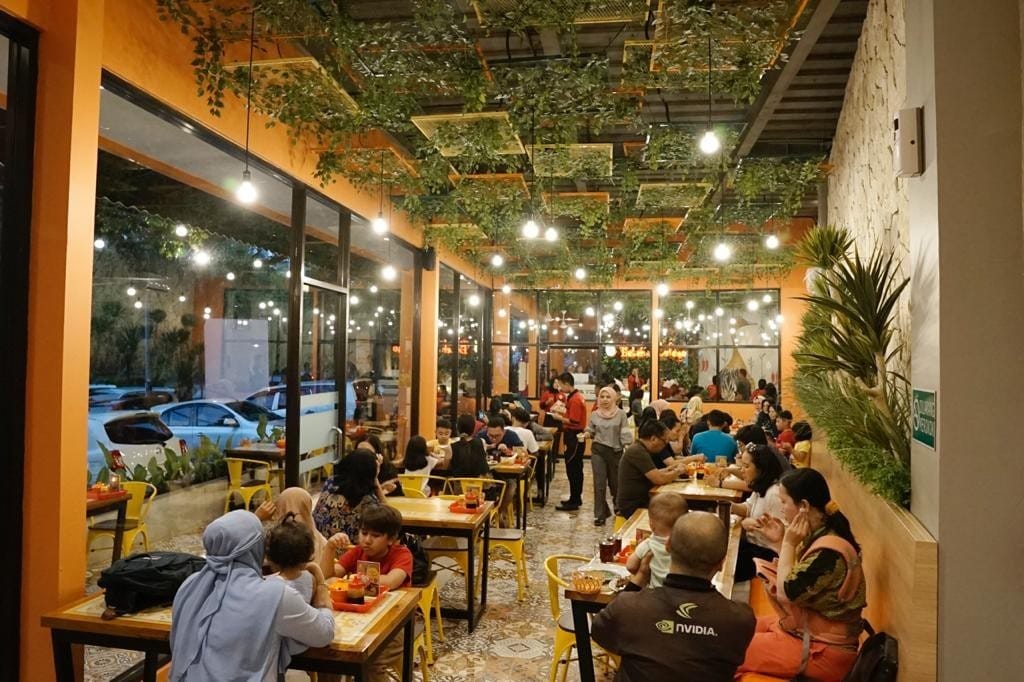 The dine in condition in Bebek Kaleyo prior to the pandemic.
Bebek Kaleyo made a phenomenal movement in this pandemic time. Where other culinary business were having difficult times, they managed to open seven new branches. Moreover, they did not dismiss any of their employees. What is their secret?
Bebek Kaleyo is a culinary business that has a simple but worthy vision. They want to serve the best dish to their customers, but the price has to remain affordable for people from many walks of life.
Delicious, yet inexpensive dishes is almost always becoming a favorite of customers. Unsurprisingly, this restaurant was always vibrant with regulars. Bebek Kaleyo even became the most famous duck restaurant in Jabodetabek. As an indicator, when one typed the word 'bebek' on Google search, the first thing that come out will be Bebek Kaleyo.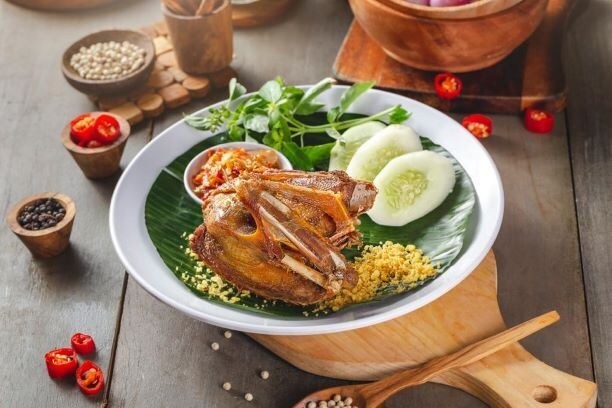 Their trump card, the roasted duck recipe that had been perfected after 120 testing.
Despite its seemingly smooth progress, Bebek Kaleyo had their struggles. It was started by two blood-related couples, Hendri Prabowo-Fenty Puspitasari and Paulus Maria-Rini Cahyanti in 2007. They first started off in the Cempaka Putih area in Jakarta, where they set up a tent stall just off a vehicle service station. Despite their humble stall, they were doing their best to provide services with high standard, which seemingly beyond other culinary business.
120 trials to find the best recipe
Just for the quality of the flavor, before deciding to open a stand, they staged testing for the fried duck recipe. They went as far as to try 120 recipes! Many different recipes available were combined and adjusted to find the best one. Yes, it is not made up. It truly took them 120 tries. Why did they have to go beyond a hundred tries? It was to find the perfect delicious duck dish. They did the testing with friends and neighbors. The comparison factor was the most well-known fried duck of the time.
Their target was to have 8 out of 10 people to declare that their duck is better than that of the competitor. That particular number was finally reached after many months of trial, on the 120th recipe. Only then they were sure that the quality of their cooking is suitable for their customers. "Back then, even 10 out 10 people said our duck is more delicious in the blind test, compared to the other one," said Djali Susanto, Marketing & Brand Manager Bebek Kaleyo.
Their hard work to acquire the recipe was not in vain. People loved their duck dish. As the result, their stand was always lively. Slowly but surely, they went up in class. From a tent stall to a permanent building. From one, two, and now it already has 37 branches, spread across Jabodetabek and Bandung. What's more is that they achieve it with their own capital and no investor. The result from their ongoing business, they gathered and invest on to open new branches. This is also the reason they were able to open seven new branches in the epidemic time. After all, everything had been precisely calculated. Not only the quality of the cuisine, but the sales grade is also strictly controlled and the progress is observed.
Innovation and maintaining standard are the keys to success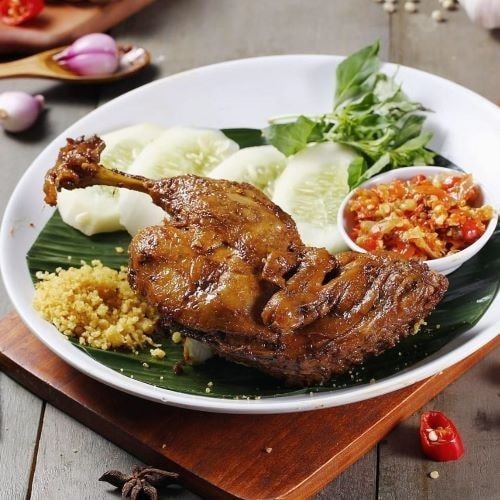 Bebek Kaleyo incorporates Bango for their roast.
After their success with the fried duck, Bebek Kaleyo keeps on going with their innovation to compete in the market. Some creations were made by Bebek Kaleyo to add more menu in their restaurant. It was meant to complete their fried duck menu that has been there from the start.
Some of the roasts available in Bebek Kaleyo are: roasted duck, roasted chicken, and duck satay. For these menus, Bebek Kaleyo always uses Bango for the sweet soy sauce. "The integration of Bango made our roast to have a better balance in the flavor. Furthermore, Bango also made the presentation of the dish more appealing. Cuisine had shinier caramelization with appetizing darkish brown color," said Djali Susanto.
The natural ingredients of Bango, which consisted of black soya beans, palm sugar, salt, and water, were indeed the combination that will fit nicely with many recipes. Especially for the roasts. Not only it immerses perfectly, it also gives the roast a unique aroma. Together with the other seasonings, they made a distinctively alluring aroma. Upon the first bite, the taste of the sweet soy sauce also did not diminish the original spices. As an instance, it was the case for the roasted duck that previously has been stir fried with salty and savory seasoning. The mixture of flavor is balanced with the sweetness that is just right. The roasting process is easier as well due to the immersion in Bango creating a layer that does not easily drying up, preventing it from overheating.
It was that standard they always strive on preserving. That is why Bebek Kaleyo is famous as the restaurant that has a uniformity in taste standard on every branch. Dining in Bebek Kaleyo in Jakarta, the dish will taste same as with in Bandung. One of the secrets is in the system of central kitchen. Each type of cuisines is processed in specific central kitchen, then it would be distributed to every branches.
Besides the central kitchen system, there is one other way to ensure of the quality of the cooking, which is a multi-layer quality control. They had a special team to sort out the duck so that how well it is cooked and the texture will remain the same upon further cooking process. Every meat is inspected, one by one. The stir-fried duck which will be delivered to their branches has to be exact in quantity and quality. They did not allow any defect like poorly chopped bones or torn skin. Only when there is none, they would proceed with the delivery. There is also a strict control in the branches when it comes to the cooking. The quality of the frying oil and the duration of grilling has to be the same. Cooking oil has to be replaced after 15 to 20 ducks are cooked. They also only use coconut oil to make healthier dish along with uniformity in size and flavor.
Strategic planning during the pandemic
Although it may seem that Bebek Kaleyo is having an easy time dealing with the pandemic, the truth is was not so. They admitted to suffer sales depreciation at the time. But, with experience on developing their business by measuring every aspect, they soon came up with anticipation steps.
To prevent the impact of the epidemic from getting worse, Bebek Kaleyo made several strategies to increase sales. "We instantly went on making frozen food and cooperate with the marketplace on the distribution, so it also broadens our horizon in the marketing," explained Santo.
Also, with their ideal business location, when there was a limitation on dining in, they innovated by opening drive-through. "Our parking space is rather sizeable, luckily. With this, our customers do not need to step out of their vehicles to order. Our waiters will take in the orders and have them delivered."
To ensure the market is updated on their new services and innovated products, Bebek Kaleyo also routinely advertise in the social media. "With the social media, we can choose where to advertise and get insight on the market that coincides with our target." He added, "For that, we regularly allocate a sum of about 10% of our revenue for promotion."
Always anticipating for any condition
Regardless of the condition, Bebek Kaleyo will always try to adapt. They are always prepared with their calculation for the best solution. Including, during the month of Ramadhan, where they usually had the potential for high sales. One thing that is anticipated is preventing the disappointment of patrons from finding the restaurant full when the time comes to break the fast. "We made promotion for takeaway only. We also made special hamper Ramadhan package. These hamper products are in the shape of ready-to-cook frozen food. The hampers is sold both online and directly, so people can enjoy our menu without having to be on the waiting list," Santo explained. "We also made family package menu so they can break the fast with loved ones at home."
The anticipation to any situation is what made Bebek Kaleyo able to survive and also progressing. In the future, it is possible for Bebek Kaleyo to be the distinct duck cuisine of Indonesia on the international sage. With the quality preservation applied, it looks like it is only a matter of time for them to be ready.
Succes Tips á la Bebek Kaleyo
Always ensure the menu reached the highest standard before launching.
Make a central kitchen in order to uniform the flavor of cooking
Apply strict quality control so that customers are served identically.
Make product bundling to increase sales volume.
Advertise in social media based on audience insight.
Use Bango which make the dishes glazing and appetizing.