SariWangi Kantong Jumbo 4x20g
54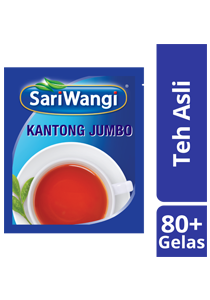 Authentic Indonesian tea for your Restaurant
Hi quality tea with classic, Indonesian tea flavours.
Hassle free, no waste, need no strain, innovation in its hygienic jumbo bag
One single jumbo bag to produce glasses of tea. Consistent flavour and quality
Suitable for Rumah makan and Indonesian restaurant
See all product details
Packaging
Including 10% VAT
All product information
Nutrition and allergens
Ingredients
Black Tea (100%)
| | |
| --- | --- |
| Total Energy kJ | 0.00 kJ |
| Total Energy kcal | 0.00 kcal |
| Protein | 0.00 g |
| Carbohydrate | 0.00 g |
| Sugars | 0.00 g |
| Fat | 0.00 g |
| Saturated Fat | 0.000 g |
| Dietary Fiber | 0.00 g |
| Sodium | 0.00 mg |
Key product information
Description
Pure black tea from high quality tea leaves, packed in a hygienic jumbo pot bag, creating a best traditional tea aroma. Jumbo Pot Bag is very suitable to brew tea in large quantity.
Packaging
Per Carton (24)
Usage information
Preparation
To Make Concentrated SariWangi Tea:
1. Boiled 2.5l of water, turn off the heat
2. Put 2 bag of SariWangi Kantong Jumbo. Allow to infuse until desired colour, taste and aroma.
3. For a cup of SariWangi Tea, add 1/3 of concentrated tea with desired fresh hot water. Add sugar as desired.
4. Ready to serve. Can be used up to 40 glasses or more
Benefits
Packed in jumbo potbag hygienic format to deliver a superior tea experience.
Storage
Keep in cool and dry place