Puré De Patata Quesadilla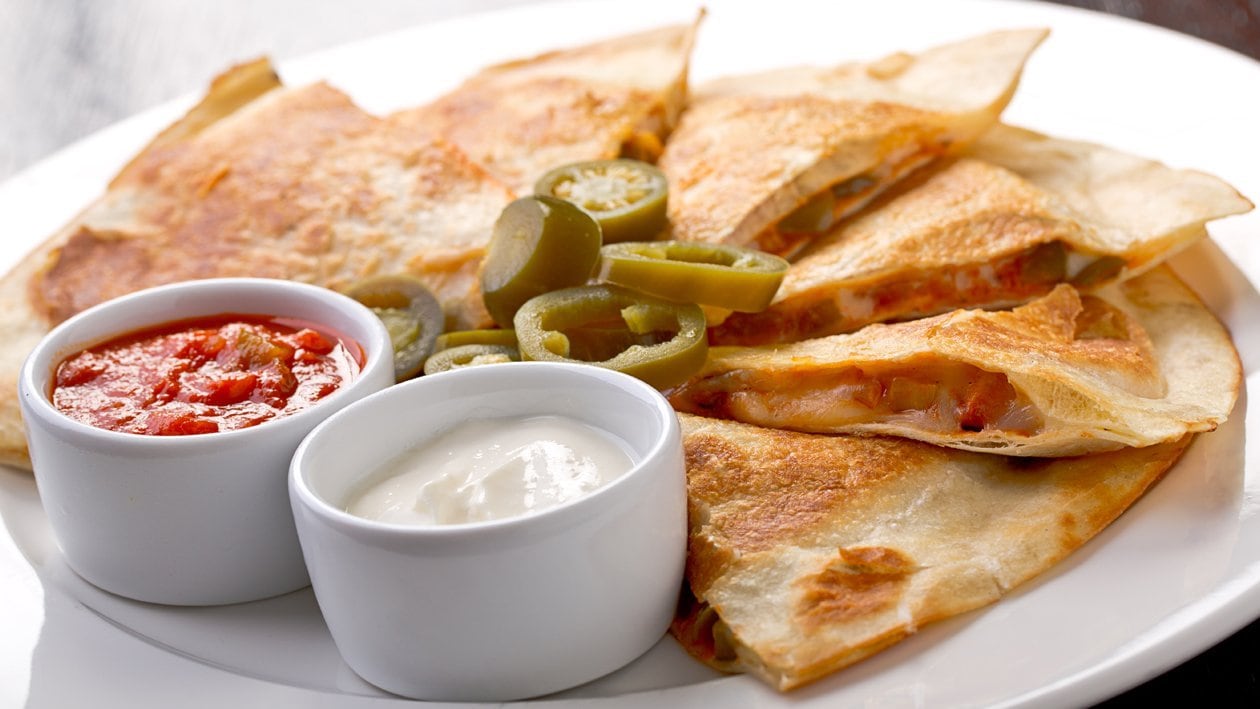 This Knorr World Cuisine dish selection has a unique taste of mashed potato and shredded chicken that are perfectly wrapped in crispy tortillas. Blended in rich salsa and sour cream, your diners will undoubtedly be pumped up to give it a try!
...
Ingredients
Mashed Potato Preparation
Quesadilla Filling Preparation
Chicken, cooked and crumbled

6.0 pc

Green Onion, sliced

0.25 cup

Cheddar cheese, shredded

2.0 cup
Presentation
Preparation
Mashed Potato Preparation

Heat 9L water with 70g salt. Turn off the heat once boiling.
Add 4L cold water. Make sure the heat is not more than 85°C.
Add Knorr Mashed Potato into the mixture and stir quickly.

Quesadilla Filling Preparation

Stir together the mashed potatoes, chicken, and green onions.
Spread the mashed potato mixture onto one side of half of the tortillas, spreading to within 1/2 inch of the edges.
Sprinkle the shredded cheddar cheese on top of the mashed potatoes and top with the remaining tortillas.
Repeat the steps with the whole tortillas.
Lightly butter each side of the quesadillas (tortillas filled with mashed potato mixture).

Frying Quesadilla

Preheat a large skillet over medium heat.
Place a quesadilla into the preheated pan.
Cook quesadilla until golden brown and crispy then turn over.
Continue cooking on the other side until browned, 2–3 minutes per side.
Repeat with remaining quesadilla.

Presentation

Transfer cooked quesadilla into a serving platter.
Serve with salsa and sour cream.