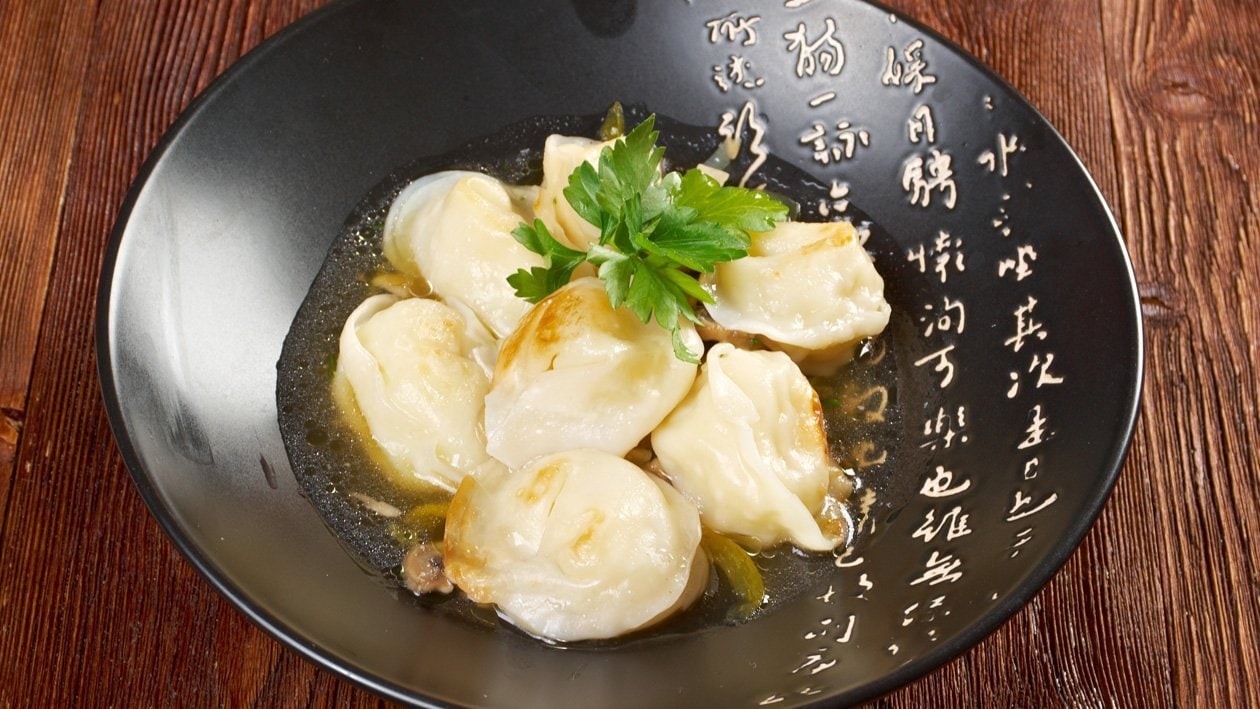 Stuffed with mashed potato and mushrooms, these boiled Chinese dumplings are accompanied by delightful chicken broth that is undeniably tempting. This solid Knorr World Cuisine menu is a great choice for all spicy-salty enthusiasts out there.
...
Ingredients
Mashed Potato Preparation
Stir-frying
Shiitake Mushrooms, minced

7.0 pc

Large Nappa Cabbage Leaves, minced

2.0 pc

Green Onion, sliced

3.0 pc
Jiaozi Filling Preparation
Pre-made Jiaozi Wrappers

40.0 pc
Boiling Jiaozi
Presentation
Preparation
Mashed Potato Preparation

Heat 9L water with 70g salt. Turn off the heat once boiling.
Add 4L cold water. Make sure the heat is not more than 85°C.
Add Knorr Mashed Potato into the mixture and stir quickly.

Stir-frying

In a skillet, sauté the red onion and garlic until the onion is transparent.
Add in shiitake mushrooms, nappa cabbage leaves, and green onion. Sauté until cooked through.
Stir in mashed potato, red chili flakes, and soy sauce with the sautéed mixture. Stir well until combined.

Jiaozi Filling Preparation

Use your fingers to gently thin out the ends of a jiaozi wrapper so that the wrapper is slightly larger and thinner.
Place a tablespoon of filling (cooked mixture) in the middle of the wrapper. Pinch the edges together however you desire.
Continue this process until either the filling or wrappers run out.

Boiling Jiaozi

Bring 2 cups of chicken stock to a boil.
Add jiaozi wrappers and boil them until they float to the surface, about 3–5 minutes.

Presentation

Transfer cooked jiaozi into a serving platter, along with the broth.
Garnish with chopped celery leaves.