Zheng Shan Bei
If you want to fuse a savory flavor with a taste of freshness in a single serve for your diners, this menu from Knorr World Cuisine is undeniably the right choice. The perfect blend of steamed scallops and garlic stir-fry will leave a tickle on tongue!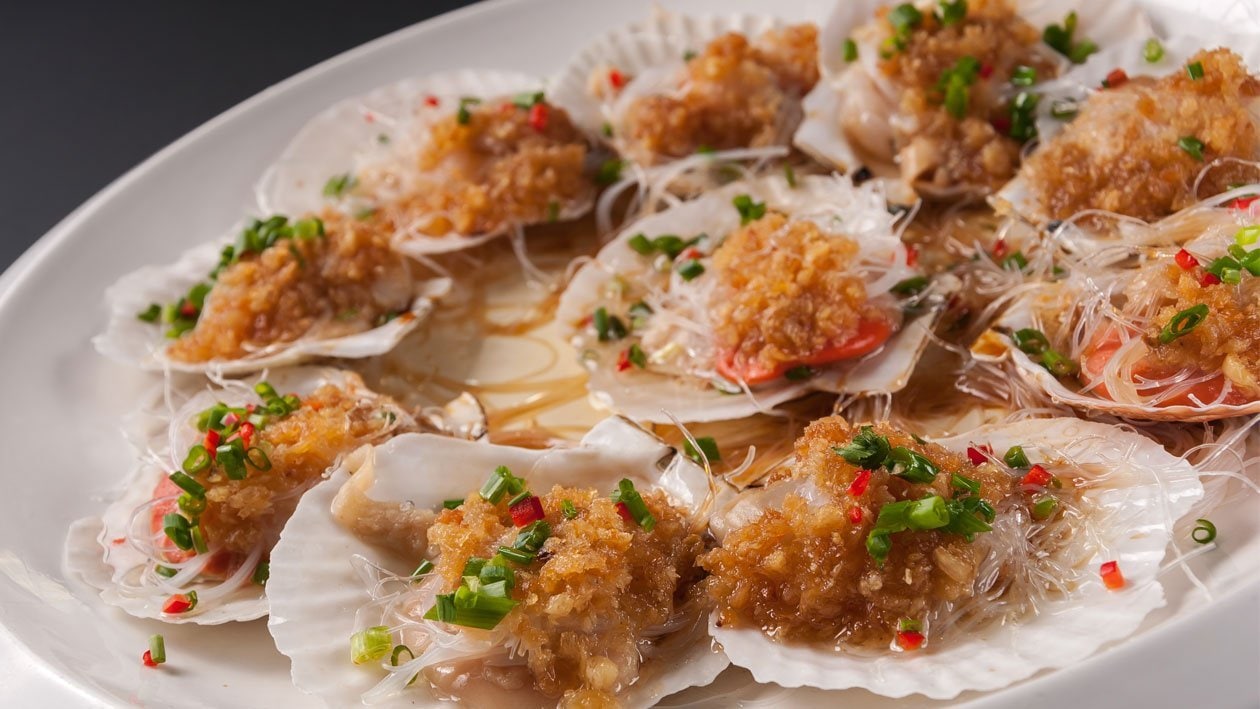 Ingredients
Scallop Preparation
Half-shelled scallops

6.0 pc
Vermicelli Preparation
Vermicelli, boiled

15.0 g
Stir-frying
Spring onion, chopped

1.0 tbsp

Garlic, peeled and finely chopped

4.0 clove
Presentation
Red Chilli, sliced

1.0 pc

Spring onion, slice sideways

1.0 pc
Preparation
Scallop Preparation

10 mins

Remove scallop meat from the shell.
Rinse the meat thoroughly and remove any dirty bits.
Scald the scallop shells in hot water for a few minutes.
Discard hot water and rinse the shells.
Return scallop meat to the shell.

Vermicelli Preparation

5 mins

Twirl a small amount of softened vermicelli around a pair of chopsticks and place them in the centre of a scallop shell.
Add scallop meat on top of vermicelli.

Stir-frying

5 mins

Heat oil in pan and sauté ginger until aromatic.
Add garlic and chopped spring onions.
At the first sight of the garlic changing to light golden brown, turn off the flame. The garlic will continue cooking in the hot oil.
Add soy sauce, Shaoxing wine, white pepper, black pepper, and Knorr Chicken Powder. Stir to combine well.

Steaming

5 mins

Divide and spoon the topping mixture over the scallops.
Steam at high heat for about 4 minutes, or until the scallops are opaque.

Presentation

3 mins

Garnish with sliced chilli and scallions.