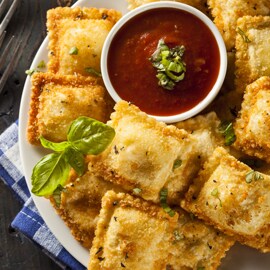 3 super simple Italian appetisers that will excite your diners' tastebuds!
Though it may seem trivial, the serving time of appetisers is crucial in preventing your diners from getting frustrated while waiting for it. Here are 3 delicious Italian appetisers that will do just that!
Fried Ravioli
Before frying, remember to dip the ravioli in buttermilk and bread crumbs. Serve with marinara sauce and you'll get a simple yet wonderfully tantalising appetiser treat.
Tomato-Basil Crostini
Use fresh tomato slices and basil leaves as a topping for each crostini (toasted bread). Drizzle the crostini with olive oil and red wine vinegar. As a finishing touch, simply sprinkle a pinch of salt and pepper.
Caprese Antipasto
Dress your platter with tomatoes, mozzarella, and lemon basil leaves. Add a little olive oil and balsamic vinegar to the platter, along with some bread. You can also add slices of salami to perfect the taste.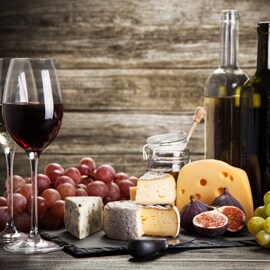 You can enhance food flavour with Italian red wine!
It's no secret that Italy is famous for its exquisite red wine. But do you know that red wine can enhance the flavour of your food? Discover 2 kinds of Italian red wine that can enrich the authentic flavour of your food.
Barbera
Originating from Northern Italy, Barbera is a red wine with a unique blend of rich and light-bodied flavours of cherries, blueberries, and raspberries. As such, it goes very well with heavy dishes such as pizzas or pastas like lasagna, spaghetti and ravioli.


Negroamaro
In the southern region, Italy has Negroamaro, a red wine with soft aromas of cinnamon, clove and pepper. Negroamaro is a great beverage to accompany antipasto or tuna steak as they complement the strong flavour of these spices.