Ossobuco Con Purè di Patate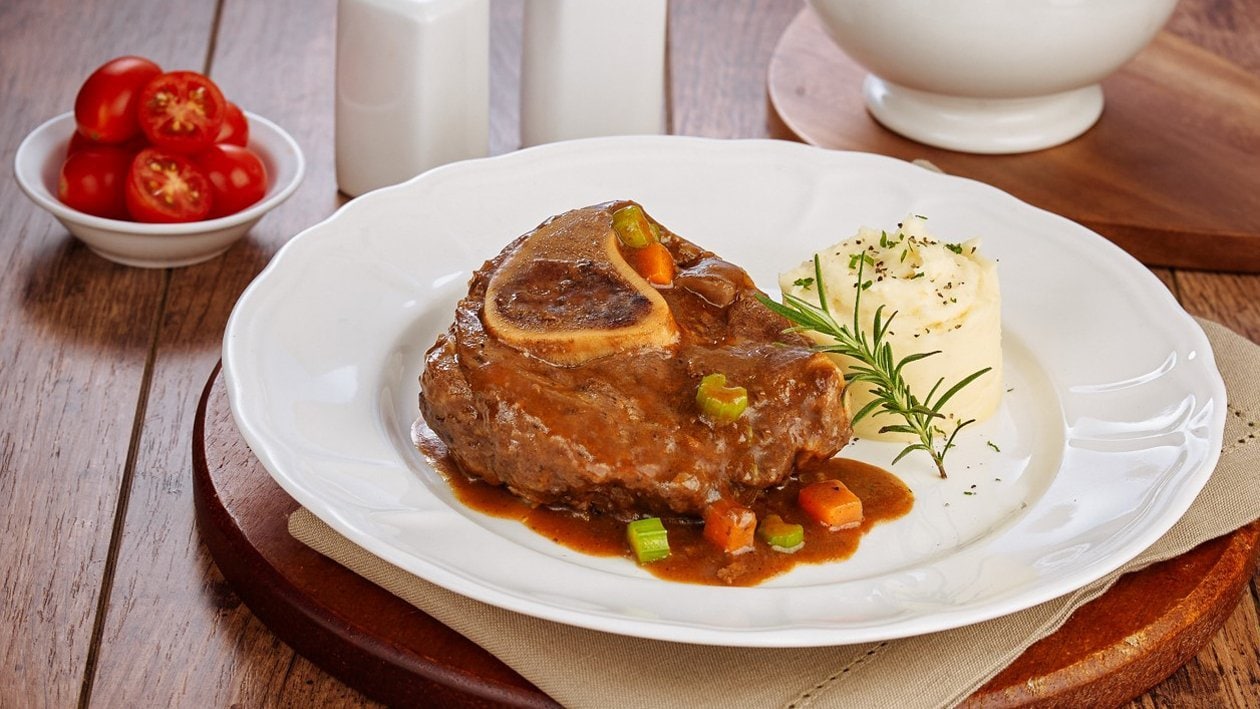 Vary your diners' set of platters with this flavorous potato menu, an absolute favourite of Knorr World Cuisine. Fused with velvety shanks dusted with black pepper and herbal-scented tomato glaze, anyone can't help savouring this ultimate delicacy!
...
Ingredients
Mashed Potato Preparation
Beef Shank Preparation
Presentation
Preparation
Mashed Potato Preparation

Bring 150ml water to the boil, then turn off heat.
Add 25g Knorr Mashed Potato to the hot water, mix well, and rest for 1 minute.
Add butter, cooking cream, Knorr Chicken Powder, and Pepper. Mix well.

Beef Shank Preparation

Pat Beef Shank dry, and coat with flour.
Heat oil in pan. Put shank in, and brown well. Set aside.
Sauté onion, carrot, celery, and garlic until brown.
Add Bay leaf, mix well, add beef shank.
Add Knorr Tomato Pronto, Knorr Demi Glace, and water. Mix well, cook with medium heat.
Add Knorr Chicken Powder.
Cook with low heat for about 1-2 hours until beef become tender, carefully turning beef every 30 minutes.

Presentation

Carefully remove shank from the pan, place it on the plate.
Strain the remaining liquid in the pan, and use the strained as sauce.
Place mashed potato in a separate bowl, or aside the shank.
Garnish with rosemary.