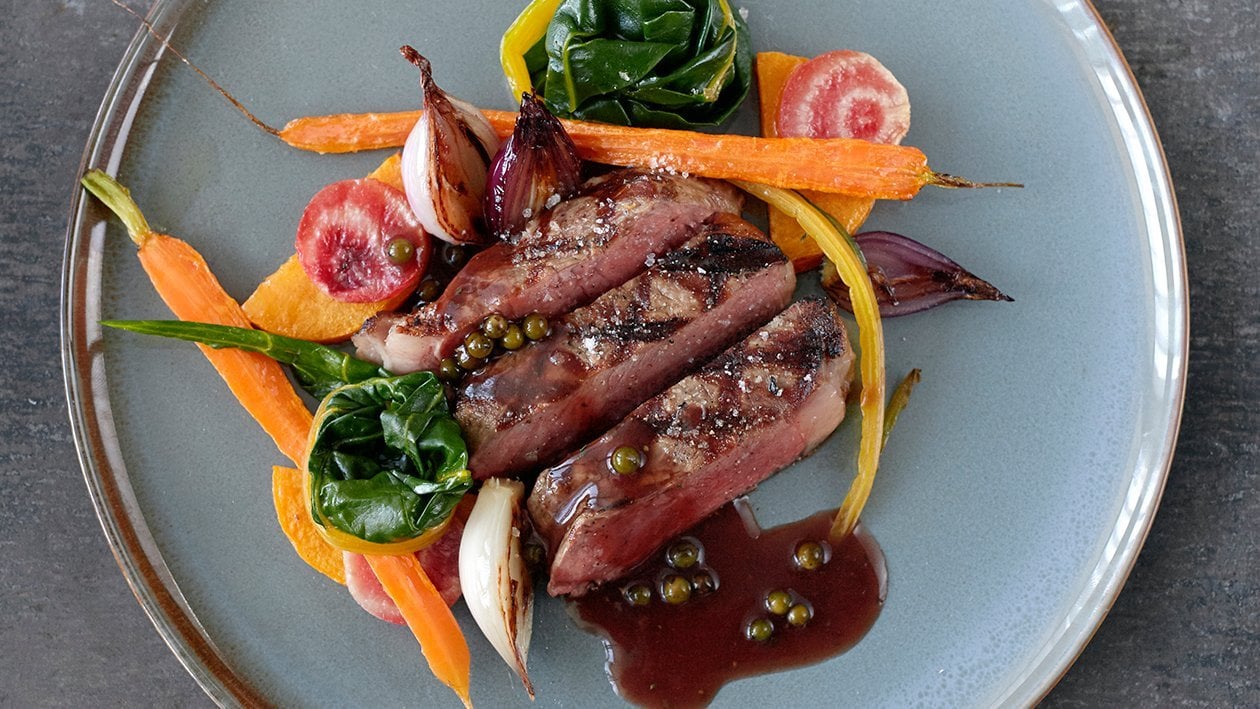 Sophisticated but oh so comforting, this French dish is a classic for good reason. High quality ingredients are the key. Get the best rib-eye you can, and give it the respect it deserves – simply delicious.
...
Ingredients
Preparing Rib Eye Steak
Preparing Green Pepper Sauce
Shallot, finely chopped

80.0 g

Garlic, finely chopped

2.0 clove

Green Peppercorns (canned)

90.0 g

Fresh Herbs (Thyme and Rosemary), chopped
Preparing Vegetables
Preparation
Preparing Rib Eye Steak

Slice the rib eye in 5 thick steaks.
Roast the rib eye steak and bring to the desired doneness.
Season the meat.
Allow to rest.

Preparing Green Pepper Sauce

Fry the chopped shallots and garlic in vegetable oil.
Gently crush the peppercorns for a more intense taste.
Fry the peppercorns together with the onions and garlic.
Deglaze with red wine and reduce until 1/3th.
Add the demi-glace.
Add the fresh herbs.
Simmer for 2 minutes.
Finish the sauce with butter.

Preparing Vegetables

Boil the beetroots, peel them, slice them in tranches and roast in the oven on 175 degrees Celsius.
Clean the carrots and roast them together with the beetroots.
Clean the shallots and roast them.
Clean and stew the yellow beet leaf.

Plating

Plate the vegetables on a warm plate.
Cut the rib eye and place it in the center.
Finish the sauce and pour it half over the meat.