Ravioli Al Formaggio Con Salsa Madre
Please your diners' appetite with this cheesy and creamy ravioli from Knorr World Cuisine. Its extra delicate taste of syrupy Madre sauce will never make your diners want to miss every single bit of this dish.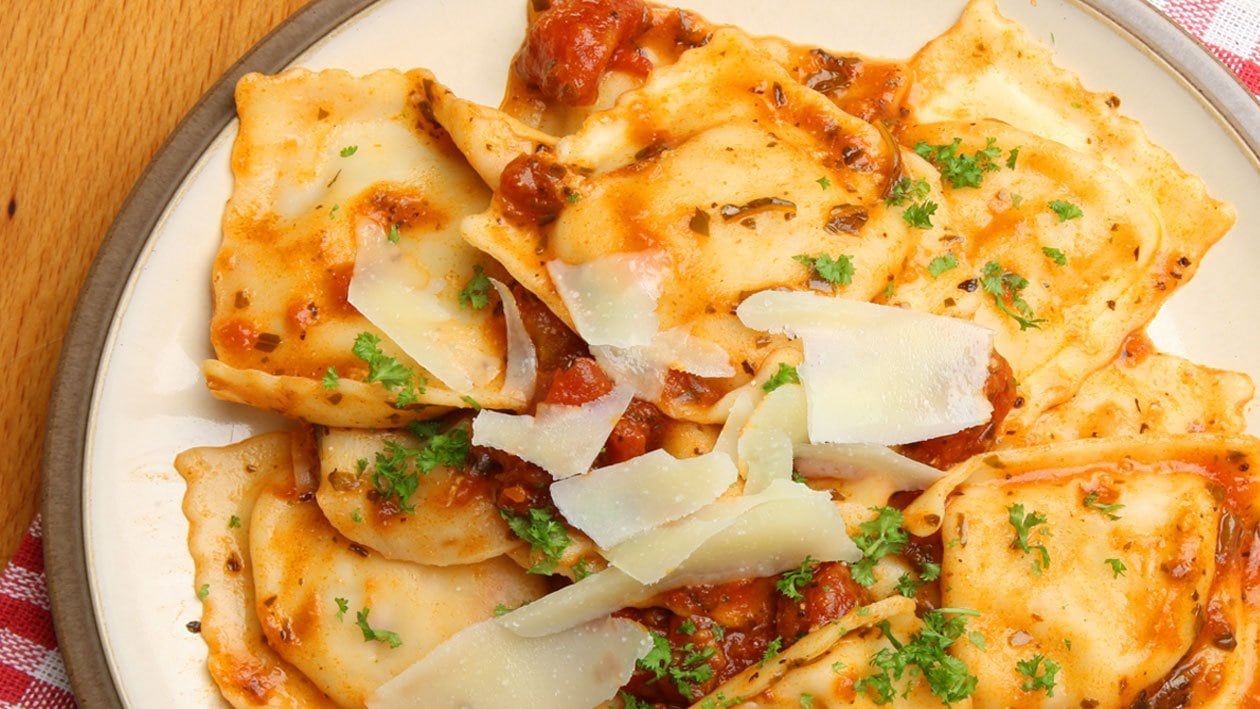 Ingredients
Dough Preparation
Three-Cheese Filling Preparation
Parsley, chopped

2.0 tbsp
Madre Sauce Preparation
Presentation
Preparation
Dough Preparation

40 mins

Mound semolina on work surface and form a well in the centre.
Add eggs and olive oil into the well. Using a fork or your fingertips, combine semolina with the eggs and olive oil.
When the dough starts to come together and looks shaggy, start kneading. Knead dough until smooth and elastic, about 5 - 10 minutes.
If dough feels dry, add 1 - 2 tbsp water.
Wrap dough in plastic wrap and let rest for 30 minutes.

Three-Cheese Filling Preparation

5 mins

In food processor, combine ricotta, gorgonzola, parmesan, egg yolk, parsley, nutmeg, salt, pepper, and Knorr Chicken Powder.
Pulse until filling is smooth.

Madre Sauce Preparation

15 mins

Make a small incision into each tomato with the tip of a paring knife.
Add 2 tbsp olive oil to skillet over medium heat.
Add garlic and cook until soft and lightly golden, about 2 minutes.
Add tomatoes and three-cheese filling. Let sauce cook until tomatoes burst and start to evaporate, about 10 minutes.
Finish sauce with basil and season with salt and pepper.

Ravioli Preparation

20 mins

Cut dough into 4 pieces.
Cover unused dough in plastic wrap to prevent it from drying out.
Using a pasta machine, form the dough into ravioli.
Transfer ravioli to baking sheet lined with parchment paper and dust with a little semolina so they don't stick. Repeat with remaining pasta sheets.
Bring large pot of water to a boil. Generously salt.
Add ravioli and cook until pasta is "al dente", about 3 to 4 minutes.
Drain ravioli gently.

Presentation

5 mins

Transfer ravioli to platter. Pour Madre sauce over.
Serve with grated parmesan, and drizzle of extra olive oil.