Glazed Duck with Honey and Lavender
Honey and lavender give this duck dish its sweet, floral taste, while corn cream adds another dimension to this show-stopping plate of food.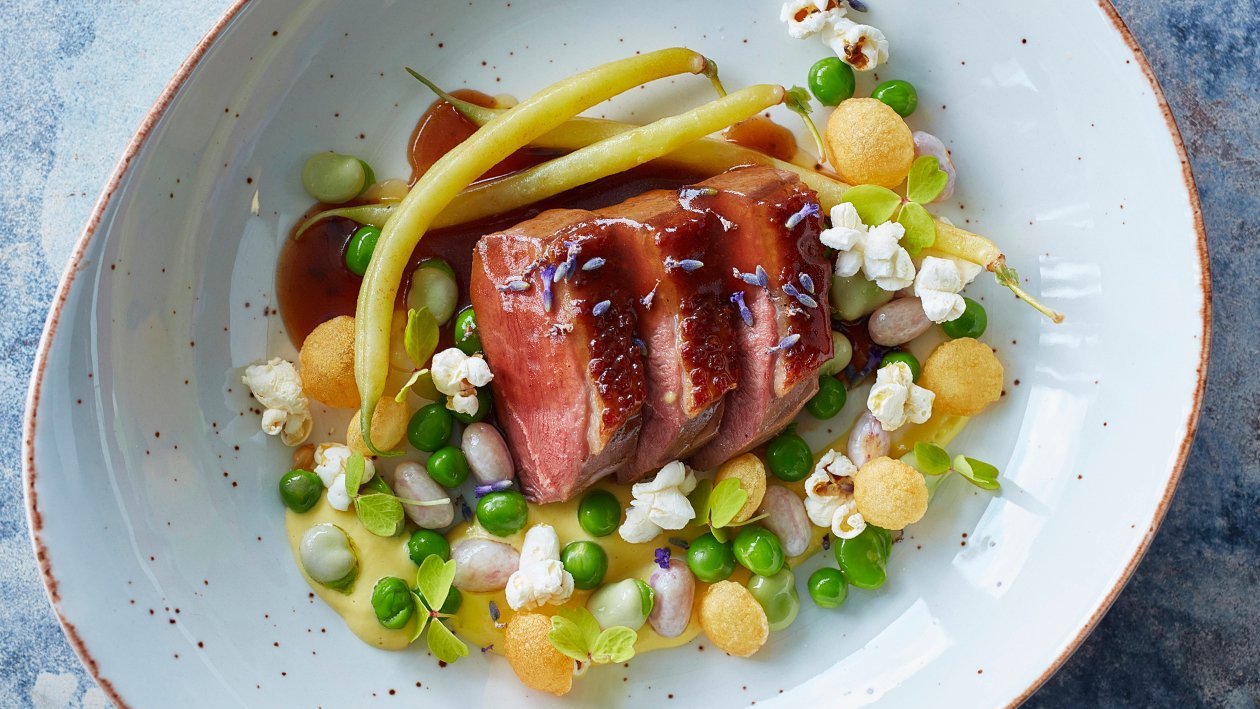 Ingredients
Prepare the Duck Filet
Duck Breast (Canette de Barberie)

1.2 kg
Preparing Sauce
Shallot, finely chopped

80.0 g

Garlic, finely chopped

2.0 clove

Fresh Herbs (Thyme and Rosemary), chopped
Preparing Corn Cream
Chicken Bouillon

100.0 ml

Fresh Cream 36/38%

300.0 ml
Preparing Vegetables
Preparation
Prepare the Duck Filet

Incise the fat of the duck filet like a raster.
Season with salt and pepper.
Fry the duck on it's fat in a dry frying pan.
Fry until the fat gets brown and crispy.
Turn the filets and fry the other side for 2 minutes.
Take the filets out of the pan.
Allow to rest.

Preparing Sauce

Remove most part of the fat from the frying pan.
Fry the chopped shallots and garlic.
Add the honey and demi-glace.
Simmer the sauce until it has the right thickness for glazing the duck.
Add the fresh herbs and the lavender.
Finish the sauce with butter.

Preparing Corn Cream

Boil the chicken bouillon together with the cream.
Cut the kernels from the corn and boil them in the cream/bouillon mixture.
Blend and sieve when the kernels are soft.
Reduce the cream until and season with salt.

Preparing Vegetables

Blanch the yellow beans.
Cook the borlottie beans until they are soft and stew them later with some chopped onion in butter.
Blanch the yellow beans and garden peas, stew them before serving in some olive oil.
Prepare the pommes soufflé.

Before Serving

Bring the duck filets back in the sauce and glaze them until the sauce is nicely coated around the filets.
Make sure you don't do this too long so the duck won't get overcooked.

Plating

Spoon the corn cream on the plate and divide the vegetables.
Dress the vegetables on the corn cream.
Slice the duck filet and add some extra sauce.
Garnish with the pommes soufflé, popcorn and lavender flower.