Potato Croquettes with Mozzarella and Beef
This is casual Italian dining at its very best. The delicious bite-sized croquettes make this dish perfect for sharing.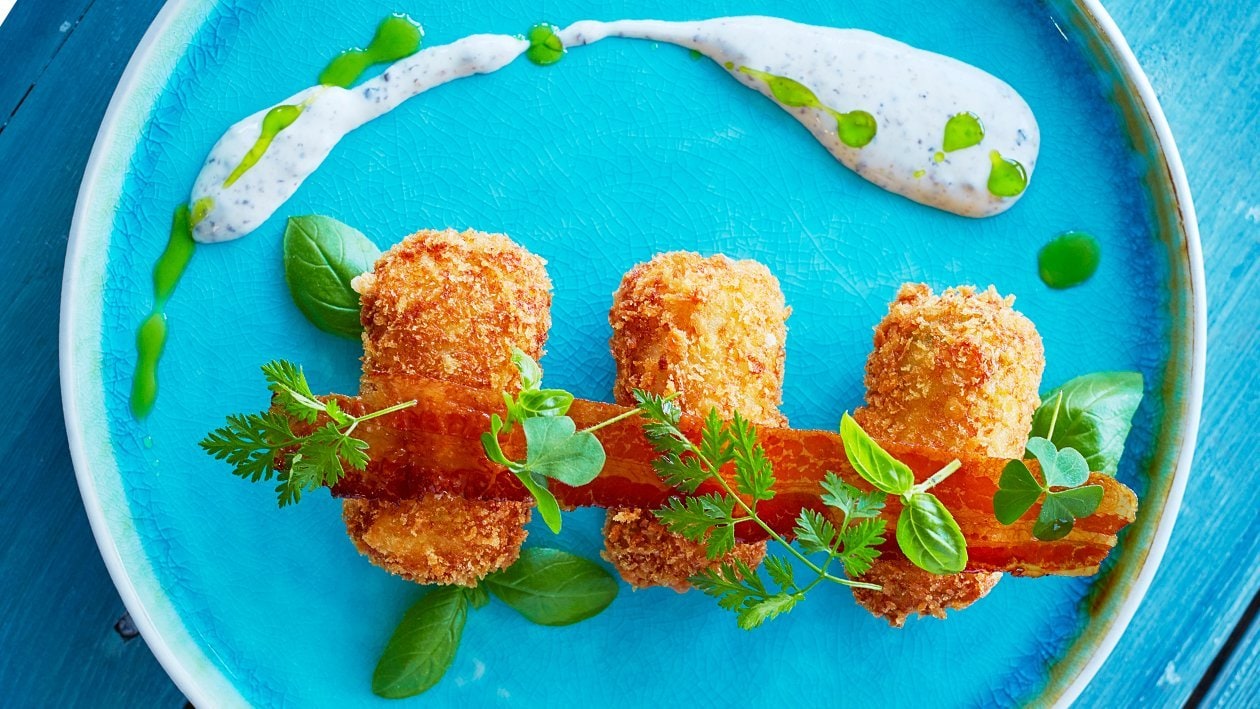 Ingredients
Making Potato Croquettes
Knorr Mashed Potato, prepared

600.0 g
Coating
Prepare the Crispy Pancetta
Pancetta Slices (thin)

10.0 pc
Prepare Truffle Mayonnaise
Plating
Fresh Herbs (like Basil, Parsley or Chervil)
Preparation
Making Potato Croquettes

Cut the beef and mozzarella in small cubes.
Chop the parsley.
Mix them with prepared Knorr Mashed Potato (room temperature) (use 10% less liquid for a more firm mash).
Season the mixture with some black pepper (no salt, salt will come from the beef).
Put the mixture in a piping bag and squeeze shapes of long cylinders on an oven tray, that's covered with baking paper.
Half freeze the cylinders and cut into pieces of 5 cm.

Coating

Coat the croquettes in 3 steps: 1 - Flour 2 - Egg wash 3 - Breadcrumbs
After coating, let the coating set for half an hour in the fridge.
Bring vegetable oil to 180 degrees Celsius and deep-fry the croquettes for about 4 minutes until they are golden.
Make sure they are hot inside so the mozzarella runs out when you break the croquettes.

Prepare the Crispy Pancetta

Place the thinly sliced pancetta on baking paper and put also baking paper on top.
Place between 2 oven racks so the pancetta will be pressured.
Bake the pancetta in the oven on 170 degrees Celcius for 8 minutes.
Remove the top baking paper and let the pancetta cool down.

Prepare Truffle Mayonnaise

Mix mayonnaise with the truffle paste.
Squeeze some drops of lemon.

Plating

Serve 3 croquettes per portion.
Place the pancetta on top.
Finish with some truffle mayonnaise.
Garnish with fresh herbs.