Royco Bumbu Pelezat Rasa Sapi 460g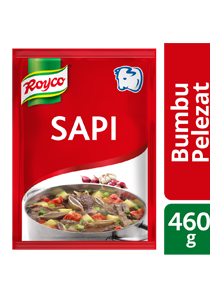 Preparation
Instruction to make 1L of Beef Soup:
1. Boil 1kg of beef meat until cooked. Separate cooked meat from the broth
2. Boil 1L of broth, add ingredients for soup, boil until cooked.
3. Add 1 tablespoon (15g) of Royco Bumbu Pelezat Rasa Sapi
4. Add cooked meat and other condiments, serve
Yield
204 portions of soup
Storage
Store in cool and dry place. Use clean & dry spoon and closed tightly after open.
Benefits
Versatile for Indonesia dishes
Allergen Information
Produced with the same equipment with product contains egg, shrimp, soybean, milk and celery.
Ingredients
Salt, sugar, enhancer (monosodium glutamate, disodium inosinate and guanylate), dextrine, artificial beef flavour (contains soybean, milk, onion (0.15%), blackpepper and white pepper powder,colorant caramel class I, beef meat (0.8%), vegetable oil, turmeric powder, anti caking silicon dioxide, and acid regulator citric acid.
Description
Authentic Indonesian seasoning, made from selected beef meat & blends of natural Indonesian spices to deliver rich meaty & umami flavour to your dishes quickly! Easily absorbed to many types of ingredients, suitable for various Indonesian dishes, e.g. soupy, stir-fry, etc.


| Item | Per portion |
| --- | --- |
| Total Energy kJ | 0.00 kJ |
| Total Energy kcal | 0.00 kcal |
| Protein | 0.00 g |
| Carbohydrate | 1.00 g |
| Sugars | 0.00 g |
| Fat | 0.00 g |
| Saturated Fat | 0.000 g |
| Dietary Fiber | 0.00 g |
| Sodium | 550.00 mg |