Brisket BBQ by Chef Deden Gumilar
The unique flavor of brisket part is a challenge on its own to be made into a delicious dish. Chef Deden explores its uniqueness by creating into black pepper spicy dishes with barbeque sauce. Let your diners enjoy the sensation on every bite.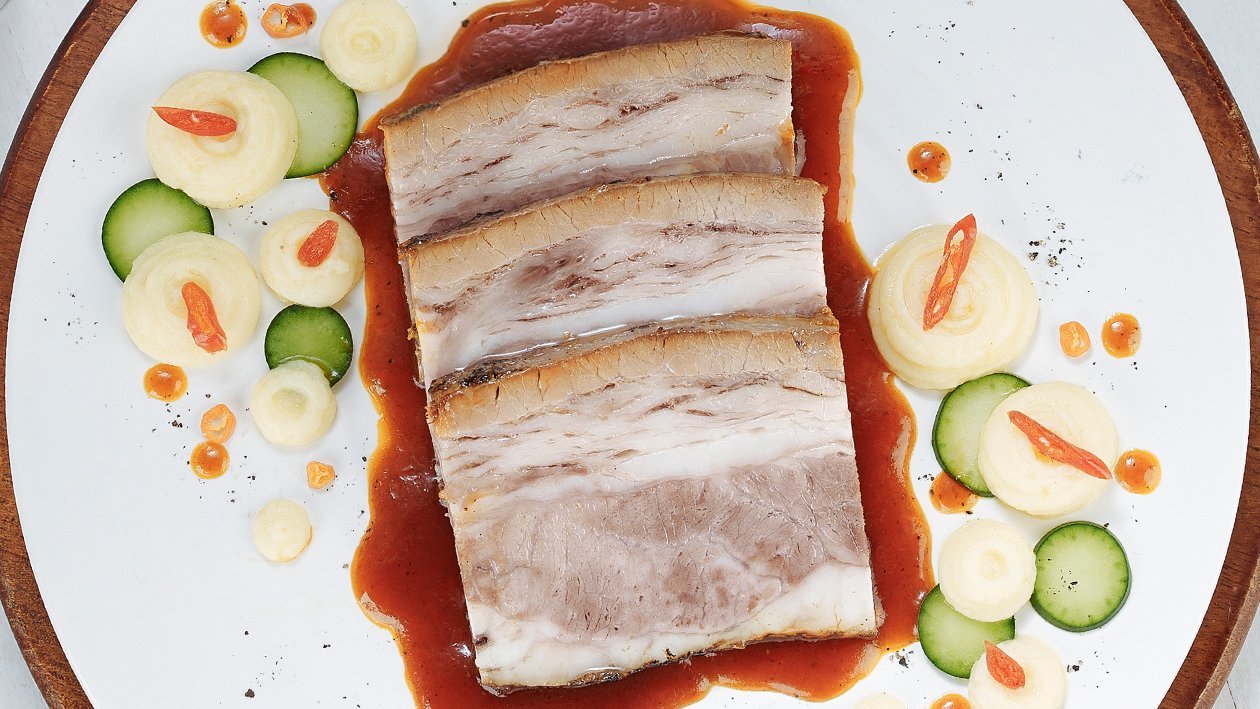 Ingredients
Making BBQ Beef
Black Pepper (rough powder)

0.5 tsp
How to Make BBQ Sauce
Knorr Tomato Pronto Sauce/Tomato Sauce/Fresh Tomato, finely chopped

300.0 g

Chilli Sauce/Chilli, milled

50.0 g

Garlic, peeled and mashed

125.0 g

Onions, peeled and roughly chopped

50.0 g

Black Pepper Powder, to taste
Make the Mouselline Potato
Fresh Unsalted Butter

100.0 g
Preparation
Making BBQ Beef

Marinate the brisket with salt and black pepper rough powder evenly. Store in a clean container, cover with plastic, store and let stand at room temperature about 20 minutes.
Heat the skillet/flat pan, add the vegetable oil, then place the brisket above the pan. Sear each side of the meat for about 3 minutes.
Remove from the pan and set aside.

How to Make BBQ Sauce

In another container, stir Knorr Barbeque Sauce, Knorr Lime Powder, and all seasoning ingredients and boiled water until well mixed.
Prepare a large and deep container (rectangular chaffing size 4 or 6 inch).
Place the brisket into it, and put all the ingredients in the container, this liquid spice should cover all the surface of the meat, if it is not enough, just add boiled water.
Cover with aluminum foil until tightly closed.
Prepare the oven at 140°C, then place this brisket into the oven for 5-6 hours, (the length of time depends on the size of the brisket made).
When the time is enough, lift/remove from the oven, the meat is ready to be served.
If you want a separate sauce, take some of the sauce from the rest of the oven process, then boil it with a small heat until the BBQ sauce thickens.

Make the Mouselline Potato

Prepare a medium pot, put the boiled water and milk into it, and warm it up.
Put Knorr Potato Flakes into it, stir until evenly distributed.
Add fresh butter into it, while constantly stirred evenly, add salt to taste, heat until cooked.
Lift and set aside.