Anjou Pigeon Cooked in A Salt Crust With Ras El Hanout
The softness of abalone meat combined with crispy mushrooms and broccoli.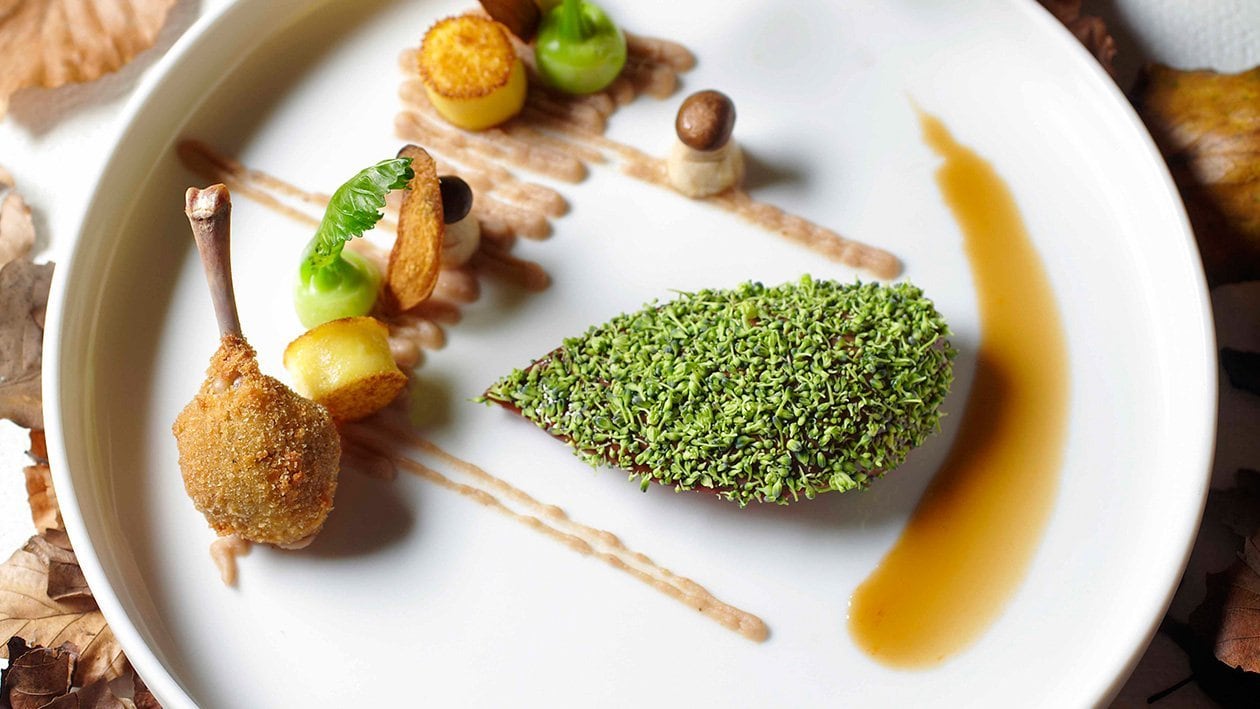 Ingredients
Pigeons
Gravy
Parsnip purée
Parsnips, peeled and coarsely chopped

300.0 g

Buttery Margarine

100.0 g

Walnut Purée (200g finely rolled walnut with 50g walnut oil)

50.0 g
Polenta
Rosemary, finely chopped

10.0 g
Eringi chips
Eringi (Japanese Mushroom)

250.0 g
Garnish
Broccoli Crunch, finely chopped

1.0 pc
Preparation
Pigeons

147 minutes

Cut the legs off the pigeons and clean them. Confit them at a low temperature in goose fat for 3 hours. Let them cool and coat them in the flour, egg white and breadcrumbs. Deep fry the legs in the oil at 180°C.
Fry the pigeons on all sides in the Phase. Mix the salt and ras el hanout with the remaining egg white. Divide the pigeons across two round plates. Pack the pigeons in the salt mixture, spread it out smoothly and bake them in the oven for 12 minutes at 180°C. Then let them rest for at least 45 minutes in the salt crust.

Gravy

Sauté the shallots with margarine.
Dilute Knorr Demi-Glace with water, add to shallot.
Bring the mixture to a boil, reduce slightly and add morel.

Parsnip purée

Cook the parsnip in the milk above a medium heat.
Strain and keep the cooking water.
Purée the parsnip with the butter and add some of the cooking liquid if required.
Add the walnut purée at the last moment and season with Knorr Chicken Powder.

Polenta

Mix the polenta and rosemary in the thermo blender.
Add the milk and cream and run for 12 minutes at 100°C.
Season with Knorr Chicken Powder and some parmesan cheese.
Tip the polenta into a flat tray and let it cool and set in the refrigerator.
Cut the cooled polenta with a round cutter.
Bake the cylinders in Phase on both sides until golden brown.

Eringi chips

Use a slicing machine to cut thin slices and place these on a Silpat baking mat.
Drizzle with olive oil, sprinkle with Knorr Chicken Powder, cover with a second baking mat and put them in the oven for 20 minutes at 130°C.

Garnish

Use a sharp knife to cut a thin layer of fine pieces of broccoli from the top of the broccoli.
Blanch the mini kohlrabi and season with Knorr Chicken Powder.

Presentation

Break open the salt crust and cut out the pigeons.
Sprinkle a thin layer of broccoli crunch on top of the pigeons.
Continue to build up the dish using the prepared components.