Guinea Fowl Fillet with Sautéed Garlic Spinach and Spiced Bulgur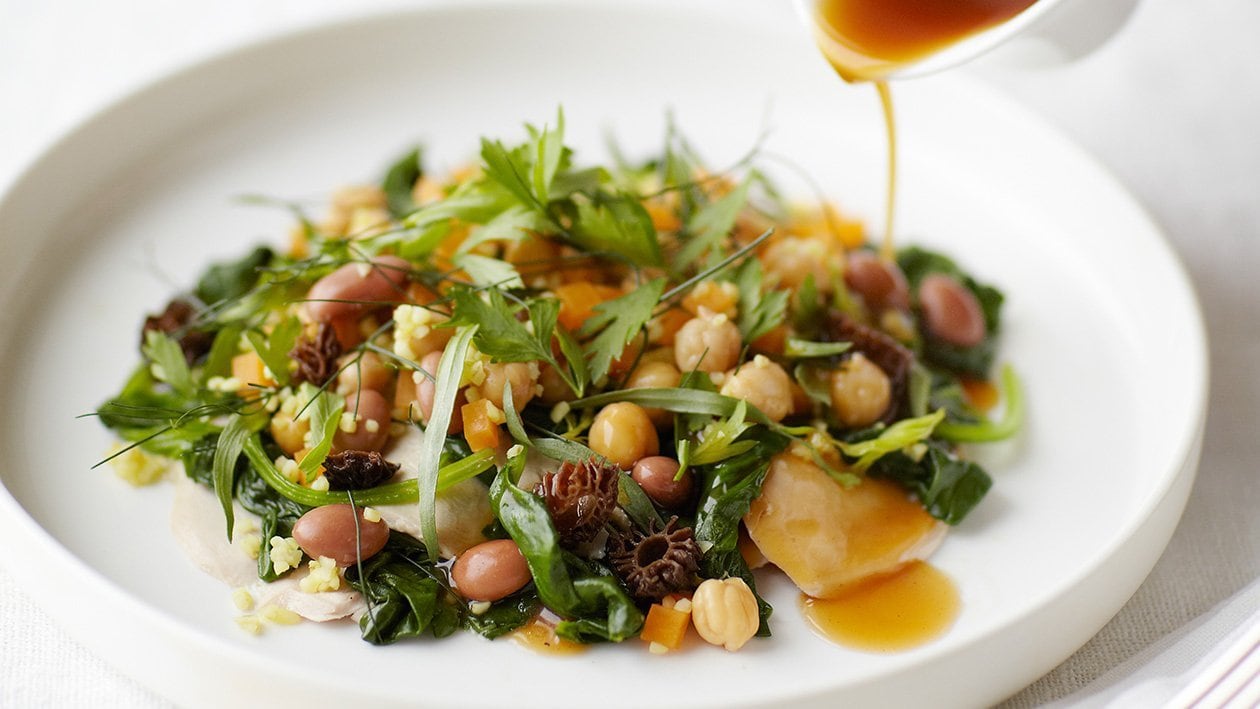 Preparing the guinea fowl fillets in vacuum bags creates a tasty structure and preserves all the meat juices. Then frying them briefly gives them a nice colour and flavour. This dish can also be made with corn chicken or pheasant.

...
Ingredients
Guinea Fowl Preparation
Guinea Fowl Fillets (about 140g per piece, skinless)

10.0 pc
Spiced bulgur preparation
Shallot, finely chopped

15.0 g

Chickpeas, cooked

450.0 g

Borlotti Beans, cooked

300.0 g

Pumpkin, cooked and blanched

200.0 g
Spinach Preparation
Gravy Preparation
Preparation
Guinea Fowl Preparation

Clean the guinea fowl fillets and season with Knorr Chicken Powder.
Place them apart from each other in a vacuum cooking bag.
Cook the guinea fowl fillets in a combi steamer for 30 minutes at 68°C.
Remove the guinea fowl fillets from the vacuum bag and fry them on both sides in Phase.

Spiced bulgur preparation

Prepare half litre of water.
Sauté the shallots with the curry and the garlic in some olive oil.
Add the orange juice and the chicken bouillon and bring it all to the boil.
Add the bulgur and stir well.
Cover the pan and let it all rest for 10 minutes.
Then stir the bulgur until loose and mix in the chickpeas, borlotti beans and pumpkin.
Mix in the herbs just before serving.

Spinach Preparation

Crush the garlic clove.
Heat some margarine together with the garlic clove in a frying pan.
Add a portion of the spinach and season with Knorr Chicken Powder & clove.
Repeat until all the spinach is cooked.

Gravy Preparation

Dilute Knorr Demi-Glace with water.
Degrease the pan used to fry the guinea fowl and then add the shallot.
Deglaze with the morel juice and add Knorr Demi-Glace.
Bring the sauce to the boil, reduce it somewhat and then strain.

Presentation

Cut the guinea fowl fillets crosswise into slices and place them on the plates in overlapping layers with the spinach.
Divide the spiced bulgur over the guinea fowl fillets.
Serve the morel gravy separately and let the guests decide how much they want.