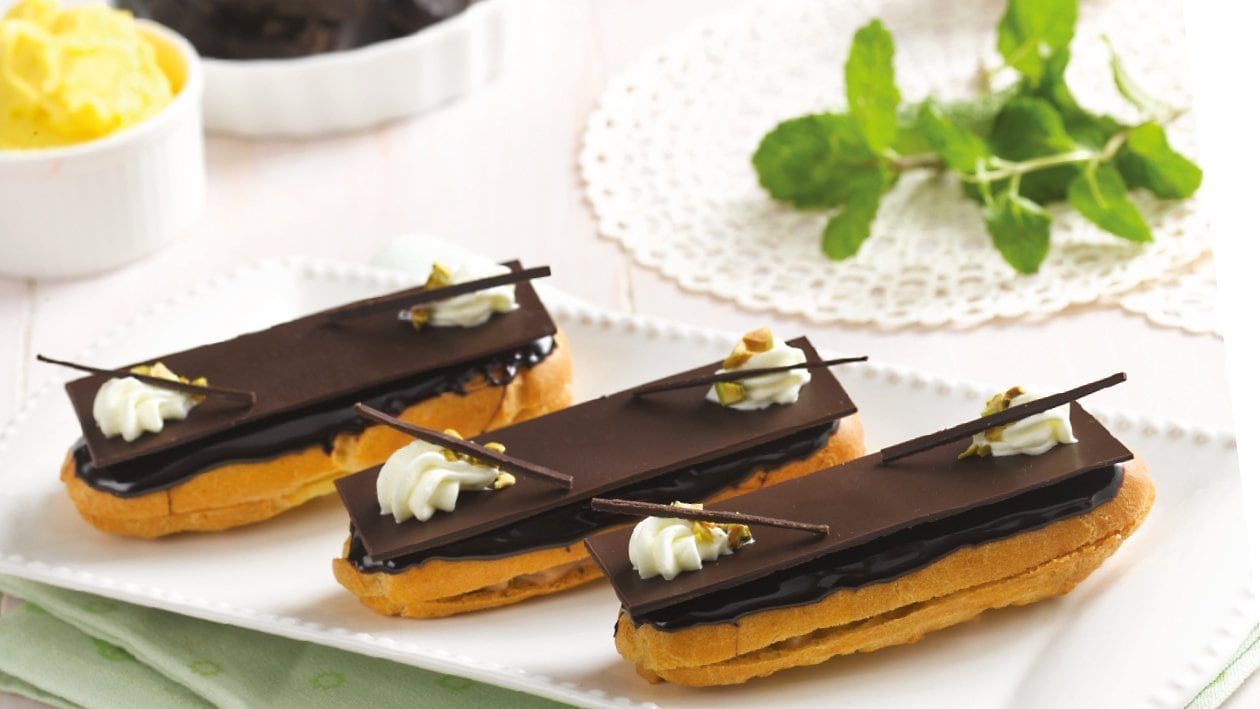 Banana as a pastry cream filling can be a good choice for your Eid Mubarak day. Combined with tender and tasty eclaire, offering a different taste to cheer up your family.
...
Ingredients
Make the Banana Cream Filling
Cavendish Banana, mashed

1.0 pc
Make the Topping Choco Glaze
Dark Chocolate Compound

25.0 g
Make the Eclaire
Medium-Protein Wheat Flour

375.0 g

Buttery Margarine

225.0 g
Preparation
Make the Banana Cream Filling

Heat all ingredients, except chocolate spread and cavendish banana, until thickened and cooked. Then add chocolate spread and banana, and mix well.

Make the Topping Choco Glaze

Soak the gelatine sheets in iced water for at least 10 minutes.
Heat the sugar, water, cocoa powder, fresh cream, stir constantly until boiling.
After boiling, add the compound chocolate, stir until melted, and then add the gelatine sheets.
Strain and stir until the mixture has cooled down somewhat and is ready to be used as topping.

Make the Eclaire

Heat the margarine, sugar, and water to boil, then add sifted dry ingredients, and stir well.
Place the mixture in a mixer and stir at low speed. After the hot steam has subsided, add the eggs gradually, stir well.
Insert the mixture into a piping bag and press it into a baking pan in strips. Glaze the baking pan first with shortening.
Bake at 200°C for about 25 minutes until done.