Cauliflower Risotto with Parsley and Morel Mushrooms
Since making risotto can be a time-consuming process we have created a recipe that can be prepared "a la minute" in a flash.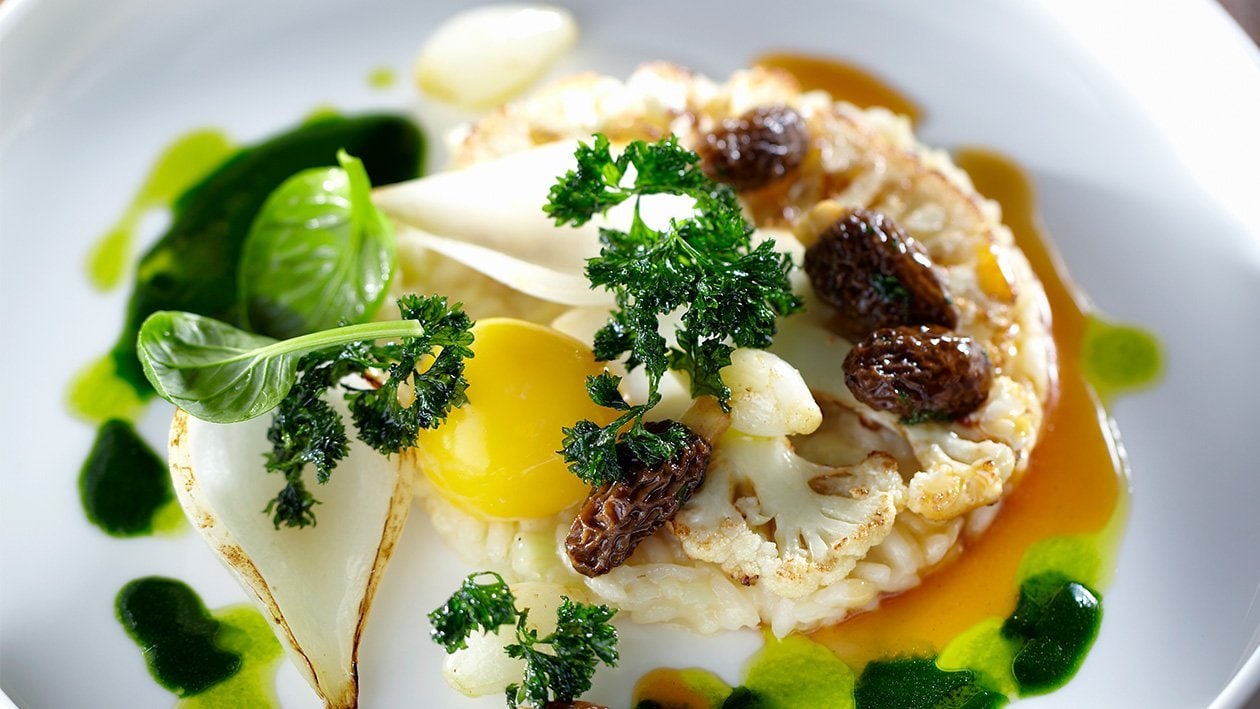 Ingredients
Eggs Preparation
Risotto Preparation
Shallot, finely chopped

20.0 g

Parmesan Cheese, grated

40.0 g
Garnish
Gravy
Presentation
Preparation
Eggs Preparation

40 minutes

Cook the eggs at 65˚C for 35 to 40 minutes.

Risotto Preparation

Heat some olive oil and sauté the shallot without browning.
Add the rice and cook until translucent.
Add the water and stir well until it starts to boil.
Add Knorr Rostip, mix well.
Set the lid on the pan and place it in a preheated oven at 185°C for 18 minutes.
Remove the risotto from the oven and check that it is 'done' and creamy.
Stir in the cheese and cauliflower and dish the risotto onto the plates.

Garnish

Cut some thin slices from the cauliflower and finely cut the rest.
Fry the cauliflower slices on both sides in Phase until they are brown and season with Knorr Rostip.
Blanch the finely chopped cauliflower in salted water.
Blanch a bunch of parsley and then finely chop it in a blender.
Strain the parsley coulis and season to taste with pepper and a cube of margarine.
Pluck the remainder of the parsley and fry until crispy, then season with Knorr Rostip.
Clean the onions and cut them in half.
Separate the layers, season with Knorr Rostip and a little olive oil and roast them briefly in the oven.

Gravy

Dilute Knorr Demi-Glace with water.
Sauté Morel in margarine.
Add the Demi-glace and bring to a boil.

Presentation

Peel the eggs, remove the egg white and place the yolks on the risotto.
Place the fried cauliflower on top and the grilled onions on the side.
Spoon on the morels and finish off with the parsley coulis and the oil.
Garnish with the fried parsley.